Being a Lay Pastoral Leader is a calling to a radical way of being and working in the Church. It is more than a career but an invitation to be missionaries in the home front. It is a rewarding service of bringing people together as church and being part of people's journey.
Launch Out is the formation programme designed and initiative by the Archdiocese of Wellington for future lay pastoral leaders.
Launch Out has been set up to train and form lay men and women who are interested in full or part-time ministry in the Church. As churches have merged into larger parishes, the Archdiocese will need more lay pastoral leaders to lead parishes and the different ministries and chaplaincies in the Archdiocese.
Launch Out is comprehensive, practical as well as theoretical, and grounded in the principles of pastoral spirituality.
Launch Out has produced Lay Pastoral Leaders, parish administrators, ministers in various Catholic organisations and chaplains in the Archdiocese of Wellington. Some of them have were also invited to work in other dioceses.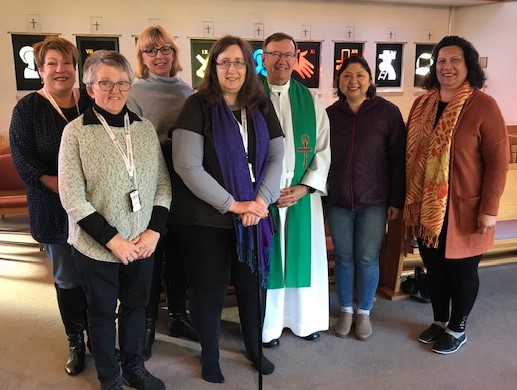 History of Launch Out
1988 – Archdiocesan Synod
1998 – Archdiocesan-wide consultation
1998 – Archdiocesan Synod mandates introduction of Launch Out Formation Programme and Lay Pastoral Leaders
1999-2001 – Formation programme for Lay Pastoral Leaders established
2002 – Appointment of Launch Out Formator/Manager and acceptance of first candidates
2006 – First Lay Pastoral Leader appointed to a Parish within a Pastoral Area
2008 – Appointment of first Launch Out graduates to Prison and Hospital Chaplaincies
Synod decisions
2017 "Go you are sent…to find leaders"
1998 " Appropriate formation in pastoral ministry is to be provided so as to prepare candidates for appointment to parish leadership responsibilities".


Application Process
The prospective candidate submits a completed application form and curriculum vitae, with contact details of at least three referees. Application period runs anytime from January to October.
An initial interview is set with Maya Bernardo, the Launch Out Formator and Manager
The prospective candidate is then interviewed by a panel, consisting of Cardinal John Dew (Archbishop of Wellington), Mary-Ann Greaney (Director, Parish Leadership Ministry) and Maya Bernardo. Acceptance into the formation is the panel's decision.
Commencement to the programme is the year following the acceptance period (E.g. if you were accepted this year, you will start the following year). From thereon, the applicant becomes a Launch Out Candidate.


Formation period
The formation programme can last between 4 to 8 years, as the Candidates balances Launch Out with the needs of their jobs and families.
LO Candidates are appraised twice within the formation programme.
Candidates who satisfactorily complete the programme will be endorsed by the Archbishop, and their availability for pastoral leadership position will be made known throughout the Archdiocese. Although there is no guarantee of employment for a Lay Pastoral Leadership position upon completion, the Launch Out endorsement is highly considered by many Catholic organisations in looking for possible leaders for the different ministries.


Formation programme
The programme is an integration of three formation programmes, namely: Theological Formation, Spiritual Formation and Pastoral Formation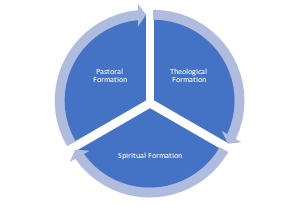 Pastoral formation
LO Candidates are given a plethora of experiences to acquire practical skills in working in a parish setting. These experiences also inform their discernment of whether being a Lay Pastoral Leader is suited to their gifts. LO Candidates are asked to run a total of 4 projects within the formation year. They are will be given a chance to assist a Lay Pastoral Leader in doing some of their jobs in the parishes (e.g. organising sacramental services, processing documentations, etc).
Theological Formation
Like most professions, being a Lay Pastoral Leadership has its distinct qualification. It is important to equip a Lay Pastoral Leader with the theological knowledge in running ecclesial organisations such as parishes, faith communities and the different ministries. Hence, a Launch Out Candidate, will be required to enrol the NZ Certificate in Christian Studies- Christian Ministry Strand (NZCCS-CM) and the NZ Diploma in Christian Studies- Christian Leadership Strand (NZDCS-CL) from The Catholic Institute (www.tci.ac.nz). The cost for the studies is to be shouldered by the Launch Out Candidates.
Course would include:
NZ Certificate in Christian Studies Christian Ministry Strand (NZCCS-CM)
SC501 Understanding the Old Testament
SC502 Interpreting the New Testament
TH501 What Catholics Believe
TH502 What is Theology
TH504a Catholic Social Teaching for Ministry
TH505a Christian Ethics in Ministry
NZ Diploma in Christina Studies, Christian Leadership Strand (NZDCS-CL)
TH601 The Sacraments Today
TH603 Renewing the Church
LD601 Liturgical Leadership and Practice
LD604 Skills in Pastoral Leadership
TH609 He Tῡranga Whakaaro-A Place to Stand and Share
LD603 Models of Biblical Leadership
Launch Out Professional Papers
PM602 Celebrating Liturgy
TH613 Catholic Spiritual Tradition
TH625 The Church in Aotearoa New Zealand
Spiritual Formation
LO Candidates need to nurture a robust life of prayer, where they constantly reflect on the movement of the Holy Spirit in their lives. The Spiritual Formation helps the LO Candidate piece together the learnings they get from the Pastoral and Theological Formation. The Launch Out Candidate will be required to see a spiritual director once a month for at least 10 months in the year, attend 3 Prayer Days, and 1 Retreat in a year. Cost associated with these activities are undertaken by the Archdiocese.
For further information about Launch Out contact Maya Bernardo m.bernardo@wn.catholic.org.nz 04 496 1582