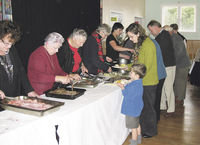 "It was quite a long time ago. I was in a parish and we ran a fair to raise money to send to an overseas mission. Most people in the parish took part in some way. Some donated things for sale. Others made tea and other refreshments. Everyone was involved. We all worked together and had fun. We got to know each other as a parish community. That was almost more important than the money we raised. Everyone felt like they had a contribution to make. Lots of people who were not part of the parish came. I think there was a real atmosphere of love, not just something like on a Sunday morning, but really getting to know each other."
Synod 2006
Today more than ever we need to strengthen our faith communities because they serve as a vital source of support for Catholics.
Giving as part of a stewardship way of life refers to the Catholic approach to the gifts that God has freely given. Profound gratitude, justice and love become the fundamental motives for giving back to God. In a variety of ways, we as disciples of the Lord Jesus Christ, share our time, talent and treasure to build up the Church and make our world a better place.
"Without cost you have received; without cost you are to give." Matthew 10:8
Reflecting on these words from Matthew's Gospel, "Without cost you have received," our initial reaction might be, "What do you mean without cost? I've worked hard for what I have!" Undoubtedly this is true. We study, advance our careers, sharpen our talents and develop our skills, perhaps at great physical and financial expense. However, Matthew's words refer to our God-given talent, intelligence and individual opportunities − the gifts that have led us to where we are now. Accepting God's gifts with gratitude and working hard to further develop them, begins the process of being a Christian steward.
The final portion of the quote from Matthew's Gospel, "without cost you are to give," calls each of us to give glory and thanks to God through a meaningful return of our time, talent and treasure. This involves prayerful reflection, planning and making a commitment to God.
Giving a financial gift
Many archdiocesan works currently helping the needy in Christ's name were made possible by bequests and donations.
Each of us finds different ways to make our mark on the world. One way of doing this is by making a financial gift.
The need for the material and spiritual help that the Church provides is always growing. The work of the Church in the archdiocese takes many forms including:
Preaching Christ's message
Helping families in crisis
Caring for the aged
Supporting youth and young adults
Caring for children
Supporting Maori communities
Educating the clergy
Supporting and counselling prisoners and their families
Supporting the mentally and physically impaired
Supporting sick and retired clergy
A gift to the archdiocese is a special way of ensuring that the work of the Church continues. Depending on our situations, some gifts are large and some are small but all are vital to the work of the Church.