A sacrament is an outward sign accompanied by a prescribed form of words which confers a specific grace on those who receive it.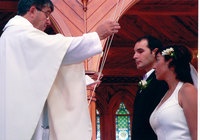 The Catholic Church teaches that sacraments were instituted by Christ and entrusted to the Church. It recognises seven sacraments which can be grouped under three headings:
Initiation
The sacraments of initiation are:
Baptism incorporates us into the Church and through it we are 'reborn' as children of God. Baptism is performed by immersion in water or the pouring of water while saying the words "I baptise you in the name of the Father, and of the Son, and of the Holy Spirit"
Confirmation or Chrismation is the sacrament which "seals" or "reaffirms" our baptism before we become a full member of the Catholic Church by sharing in Holy Communion for the first time. Confirmation is signified by the anointing with chrism oil and the laying on of hands while reciting the words "Be sealed with the gift of Holy Spirit".
Eucharist is the central sacrament from which all the other sacraments derive their meaning. At the Eucharist, Christ is present to his Church in the proclamation of the scriptures, in the people who gather to worship, in the priest celebrant and, especially, in the Eucharistic elements which we believe are the Body and Blood of Christ.
Healing
The sacraments of healing are:
Penance or Reconciliation This is a celebration of God's love and mercy after a process of conversion of heart. The rite includes confessing our sins and receiving God's forgiveness through the ministry of the priest. In this process, a person is reconciled with the Church and continues to live as a disciple of Jesus Christ.
Anointing of the Sick is a sacrament of the Church for those whose health is seriously impaired by sickness or old age. It is a source of healing for the sick rather than the "last rites" for the dying as it was once known. In the celebration, the sick person is anointed with the oil of the sick. He or she experiences the healing and strength of Jesus Christ and the support of the praying community.
Vocation/Ministry
The sacraments of vocation/ministry include:
Marriage celebrates and witnesses the covenant of love between two people symbolising Christ's covenant of love for the Church. The Catholic Church believes that the marriage bond is sacred and permanent. In the wedding ceremony the bride and groom administer the sacrament to each other by their declaration of consent. In this awesome and holy act, they are filled with the Holy Spirit who strengthens them for their life together.
Holy Orders or Ordination is a sacrament of service through which the mission which Christ entrusted to his apostles continues. The sacrament enables the ordained to act in the name and authority of Christ to serve the People of God. There are three degrees of ordination in the Catholic Church: bishop, priest and deacon.