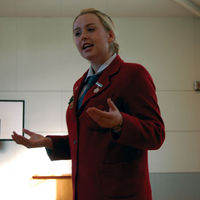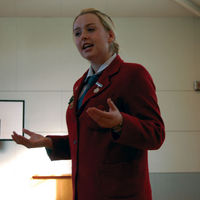 Communication is essential to the Church's mission of proclaiming the kingdom of God and helping others to follow Christ. The apostle Paul was a prolific letter writer and is often referred to as the great Gospel communicator. Today there are many different ways for the Church to disseminate its message.
'Mass' Communication
For Catholics, the Mass remains a central form of communication. Christ's message is spread through the Church's work in various ministries in the wider community.
One of the most effective ways of reaching people is through the media and, more recently, via digital communication technologies. Pope Benedict has encouraged the use of these technologies, and in particular the Internet, to transmit the faith and promote a culture of respect, dialogue and friendship.
"The development of the new technologies and the larger digital world represents a great resource for humanity as a whole and for every individual, and it can act as a stimulus to encounter and dialogue. But this development likewise represents a great opportunity for believers. No door can or should be closed to those who, in the name of the risen Christ, are committed to drawing near to others."
Pope Benedict XVI on World Communications Day
[Sunday, 16 May 2010]
Archdiocesan Communications
The 2006 Archdiocesan Synod had as a goal that "Our Communication needs are met by effective use of media and technology".
As part of our "Catholic Wellington" web presence we have a Facebook page (archdiowellington) linked to a Twitter feed (catholicadw), a YouTube Channel (archdiowellington) all linking to articles, news and information here at wn.catholic.org.nz
The official publication of the Archdiocese of Wellington and the Diocese of Palmerston North is Wel-com, a monthly newspaper which is free in all parish churches and schools. Its mission is to inform and educate about events in parishes and in dioceses and about topical issues in the wider church.
National Communications
The New Zealand Catholic Bishops Conference regularly publishes statements on a range of issues. These are posted on its website the Catholic Church in Aotearoa New Zealand – Te Hāhi Katorika ki Aotearoa. This has a national focus, encouraging diocesan websites to remain the natural homes for local content.
Each of New Zealand's six dioceses has a website and a regular publication.
There are also two national magazines and a range of specialist publications for Church organisations and agencies which can be sourced from their websites.
Below is more information on New Zealand's Catholic media.
For media and other national enquires contact – Simone Olsen, communications adviser for the New Zealand Catholic Bishops' Conference
For Wel-com editorial visit the welcom site
For all other enquiries contact us