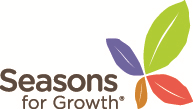 The Seasons for Growth programme focuses on the effects of significant change and developing new skills for dealing with grief.  Programmes are available for:
Children.
Adolescents.
Adults.
Prisons.
Professionals.
Married Couples (Seasons 4 Couples).
The community.
Programmes are also available designed specifically for:
the school classroom (Literature for Life).
dealing with the impact of natural disasters (Stormbirds).
For more on any of these programmes contact: Rebecca Robertson 04 385 8642