Catholic Parish of Te Awakairangi
Barbara Rowley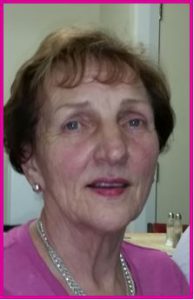 My name is Barbara Rowley and I was born into a Polish refugee family.   I went to St Madeleine Sophie's Catholic Primary School in Island Bay.   And it is with great fondness and gratitude that I still look back on those days. They were the days when St Therese of Lisieux had not long been canonised and was the popular saint of the day.   I chose Therese for my Confirmation name and sometimes dreamt about becoming a Carmelite nun, just like St Therese.   Other times I just wanted to be wife and mother.
God blessed me abundantly.  I married Kevin and we had four sons.
In the early 80s I became a founding member of the Secular Order of  Discalced Carmelites in Wellington.   In a sense my dream came true and I even got the best of both worlds.
Upon leaving school I took up employment in the General Post Office as a shorthand typist.   Later I became Secretary to Jim Knox (secretary of the Federation of Labour).   After the birth of my second child, I became a full time 'mum'.
One thing that Carmelites hold in common, is a passionate love of the Church.   St Therese claimed her vocation was to be 'love at the heart of the Church'.    St Teresa of Avila's dying words were "I die a daughter of the Church'.   I started to devote more and more of my spare time doing voluntary work in the Church.   To help me in this work I felt I should do some formal studies.   I studied first for a Diploma in Pastoral Ministry and later completed the Launch Out Formation Programme.   In 2006 I was commissioned as a Lay Pastoral Leader in St Bernadette's, Naenae.
I have been a Lay Pastoral Leader for 11 years and today am a member of the Pastoral Team in the amalgamated parish of Te Awakairangi.