Sacred Heart Cathedral Parish
Debbie Matheson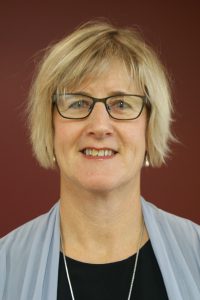 My name is Debbie Matheson.  I am married to Ken and we have four adult children.  We are looking forward to becoming grandparents for the first time in June 2018.  I have a background in secretarial work, sales and personnel consulting.  I loved being a stay-at-home Mum for 17 years, during which time I became involved in advocacy work with local communities and government; setting up a 'walking bus' route; and on-road cycle training for children.
We have lived in England for 11 years.  While there, I was received into the Catholic Church, in 2002.  It was there that I first became involved in catholic youth ministry.  In 2008 Ken and I were blessed to accompany a group of 20 young adults to World Youth Day in Sydney.  This gathering of 250,000 young Christian adults for worship, formation and fellowship had an enormous impact on me.  It has, and continues to, shape and drive my lay ministry vocation.
If I was asked to describe myself as a person from the gospel that I could most relate with it would be Martha, though I long to be a Mary!  Like Martha I am always on the go and actively serving, but when I do take time out to relax I love to spend it with my family, visiting vineyards, gardening, cycling, walking, baking, crocheting or sewing.
I have studied with The Catholic Institute of Aotearoa New Zealand since 2007.  In 2009 I completed the Certificate of Catholic Youth Ministry while employed as the Youth Coordinator on the Kapiti Coast for six years.  In 2012 I completed the Certificate in Religious Studies, Pastoral Ministry Stream.  Then in 2016 I completed the Diploma in Pastoral Leadership.  At this time, I also graduated from the Archdiocese of Wellington 'Launch Out' Formation Programme, and was endorsed by the Archbishop for formal lay pastoral leadership ministry.
I have been working for the Archdiocese of Wellington supporting parish pastoral leadership teams for two years.  In March 2018 I was appointed as the Lay Pastoral Leader of the Metropolitan Cathedral of the Sacred Heart of Jesus and His mother Mary.  My dreams and aspirations for this new chapter in my life is that, together with God, I may walk with His people, encouraging, empowering and inspiring them to live and spread the gospel messages.  To sum up, to be 'Christ's hands and feet here on earth'.