Sacred Heart Cathedral Parish
Fiona Rammell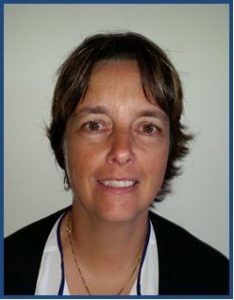 I was born on 7th June 1966 in Wellington, the middle child of three. My parent's emigrated from Holland and throughout my childhood we were exposed to all things Dutch.  This gave me an understanding of different cultures as I lived a home life in the Dutch culture and carved out a life outside of the home in a Pakeha culture. Being told at the tender age of seven by a fellow classmate that I was a cheese head and I should put my clogs on and go back to my country I remember replying, "But I am home."  This gave me my first realisation that my way of living within two cultures was not the norm.
My mother was responsible for taking us to Church on Sundays with my father only coming on "special occasions." As soon as I was of an age that I could involve myself with "church" things, I did so. I was always very involved with school life throwing myself into whatever was happening.
Leaving school I studied my degree at Victoria University along with my Diploma in Teaching. After a few years teaching I ended up lecturing in the Maths Department at the Wellington College of Education, training teachers how to teach Maths.  In 1991 I married and had four children: three boys followed by a girl. Over this time we built a Café and Function Centre which we ran for 10 years. This involved coordinating weddings, conferences, birthdays, special occasions and even a few funerals. Managing the Café and overseeing the garden development meant collaborating with a staff of up to 25 people.  In 2004 we sold the business, and I was seconded by the local Catholic school to coordinate Teacher Aids and Teachers with special needs children, gifted children, and children with behavioral needs.
In 2008 my father suddenly died and it was during this year that I was approached to apply for Launch Out.  In 2009 I started working on my Diploma in Pastoral Leadership. During the latter part of my Launch Out time I was approached and asked to rewrite the Sacramental Programme for the Archdiocese. I graduated from Launch Out and my Diploma in 2016 and was commissioned by the Cardinal as Lay Pastoral Leader for the Cathedral in 2017.
My interests include walking (have completed the Camino Frances and Camino Portugal in the last few years), reading, running retreats, watching all things sport, and last but not least, family.