WelCom News
A newspaper for the Wellington and Palmerston North Catholic Dioceses
He Hīkoi Whakapono: A Journey of Faith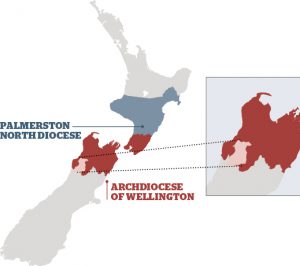 WelCom May 2018:
WelCom's Hīkoi of Faith this month visits Sacred Heart Parish of Reefton, the southern-most pastoral area of the Archdiocese of Wellington. The parish area covers Murchison in the north to Ikamatua in the south. To the west it borders with the West Coast Parish of St Canice, Westport.
To the east it is bordered by the Victoria Range. Sited alongside the Inangahua River, Reefton is an historic gold mining area and was the first place in New Zealand to have electricity installed. The economy relies mainly on farming and transport with a developing historic tourist attraction and the beginnings of a whiskey distillery. The population is around 1000 people.
---
Information supplied by Tony Fortune; edited by Annette Scullion. Photos: Fr Stefano Lee, Jill Cogger and Annette Scullion.
Brief History
1860s: Gold and quartz reefs discovered in Inangahua Valley, brought 4000 from many lands, a large number being Catholic, over a rough track from Nelson to Lyell.
1869: Many Irish Catholics among miners based in Reefton (Reeftown). Visited by priests from Nelson, Greymouth and Westport. Fr Petrius from Atarau built first small church in Reefton.
1870: Reefton established mining settlement for West Coast's gold strikes and for Inangahua quartz mines and coal mines.
1873: Reefton now had two newspapers, two banks, telegraphic communications with Greymouth and Westport. Reported first town to install electric light.
1873: Bishop Moran of Wellington visited.
1874: Reefton constituted a parish of Wellington Diocese. Fr Michael Cummins sm appointed first resident priest, bought land for school and presbytery and moved original church there.
1874: Murchison included in Reefton parish.
1874: Two Mercy Sisters from Wellington, went to Atarau until 1876; first nuns to work in the South Island.
1875: Catholic primary school established in Reefton by Mr Skerrett from Europe.
1875: Church built at Lyell (today a picnic site).
1876: Fr Denis Carew sm replaced Fr Cumins as resident priest, built new church and converted old building to a boys school.
1879: Sacred Heart Church blessed by Bishop Moran, and school children confirmed.
1881: Reefton population 863 – 100 Catholics.
1882: Our Lady of Lourdes Church built at Boatmans, destroyed by fire in 1930s.
1883: Fr Rolland sm appointed resident priest. Bought ground for convent and built a presbytery, girls' school, and school mistress' cottage.
1891: Sisters of Mercy from Singleton NSW took over schools and opened Reefton convent.
1896: Fr J McNamara appointed parish priest.
1897: Two-story wooden convent erected; 10 Sisters of Mercy teaching 190 pupils in primary and high school.
1903: Hibernian Society formed; revised after 1920s recession until late 1970s.
1911: Church at Ikamatea replaced original St Patrick's building.
1920s: Church built at Waiuta.
1922: St Peter Chanel Church, Murchison, rebuilt in concrete.
1935: Reefton served by Diocesan priests. Fr McSherry last Marist priest.
1980: Sacred Heart presbytery burnt down, replaced by new presbytery in 1981.
1981: Convent closed, Sisters of Mercy left district. Four lay teachers took over Catholic Education at Sacred Heart School. Convent burnt down 2007.
1993: St Francis Xavier Church at Inangahua Junction closed.
2000: Parish Millenium celebrations of 125 years.
---
Sacred Heart Parish Reefton
Tony Fortune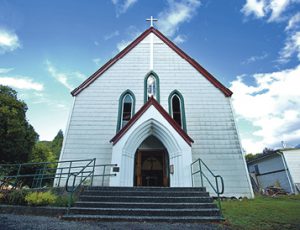 The Sacred Heart Parish of Reefton is tucked away at the far end of the Wellington Archdiocese. It lies between two ranges of snow capped mountains, the Victorias and the Paparoas. The climate can be challenging at times with cold foggy winters and at times hot summers. The Sacred Heart Parish was established a few years after the town of Reefton became the place to go to make a fortune out of hard-earned gold in the early 1870s.
In 1877 the current church replaced a tiny church as the Catholic population increased with most of the parishioners being Irish.
Today we have a varied population of Catholics in the district. In a recent census there were 200 parishioners on the roll.
Our resident priest is Fr Stefano Lee who is a new arrival from Korea and is getting used to the ways of a small parish. He has been in the district for only a few months.
The geographical area of the parish covers Murchison in the north and Ikamatua in the south. Sunday Masses are conducted weekly at Reefton and Ikamatua and at Murchison twice monthly. Weekday Masses are also said for a small number of parishioners
The Sacred Heart School is a most important part of the Catholic community and is staffed by two teachers. A sacramental programme is being conducted for the children who will make their First Holy Communion and Confirmation later in the year.
The parish council meets once a month and the finance committee meets throughout the year. We have a very active Liturgy Committee and the usual roster groups for the efficient running of the parish. We have a small but active St Vincent de Paul group and the school runs the young Vinnies.
All in all we are a great wee Parish with a small band of enthusiastic Parishioners who continue the rich heritage of those who have gone before us.
Tony Fortune, Sacred Heart Parish Council Chair.
---
Fr Stefano Lee, Parish Priest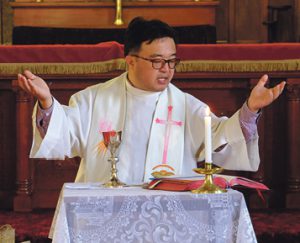 Fr Stefano Lee of South Korea, arrived in Reefton as parish priest in February this year. Reefton's diminishing population is reflected in the small number of parishioners who attend Mass says Fr Stefano.
'Not many people come to Mass during the week but more come at weekends. I am trying my best for the parish especially through Eucharistic celebrations so modern people here can regain a sense of communion.
'My vision here is to start again and hopefully fruit will bear. I will never give up my ministry for people.'
Fr Stefano celebrates weekday Masses at 9am every day and Adoration on Fridays. Sunday Mass is celebrated at Sacred Heart in Reefton and at St Patrick's, Ikamatea, 20 minutes south. About an hour north, at St Peter Chanel Church in Murchison, Mass is celebrated every second Sunday.
'Since I arrived I've been trying to reach out to connect and get to know Catholics and others in the community. There is a large Filipino group here of about 13 families who are farm workers, and most of them are Catholics. And there is a committed ecumenical group that shares services such as Ash Wednesday and general worship. I want our pastoral community to be open to others here in the community – that is what it is all about.
Fr Stefano is a talented photographer. 'I really appreciate what Mother Nature has given to us here. The seasons remind me of what we have in Korea.'
---
Sacred Heart School Reefton
Sacred Heart Primary School in Reefton was founded by the Mercy Sisters in 1891 whose values live on at the school today. These intrepid sisters travelled from Australia to Reefton. Their journey was arduous, requiring them to travel by coach, fording swollen rivers into the unknown. This selfless, caring spirit, which saw the sisters leave their home in Australia on Christmas Eve, is an expression of the Mercy charism the school community seeks to preserve.
Today the school has around 30 students led by principal Jill Cogger with junior teacher Rose O'Connor-Neilsen, and supported by Karen Fortune, Leanne Aitken, Tracey Parkinson and Christine Sara.
Sacred Heart School joins up with other schools in the district for sporting and cultural events as well as prayer groups with other Catholic Schools in the region. This year, three local schools are joining up to go to a Young Leaders Conference for years 7-8.
Jill who came to Sacred Heart School in 2014, says, 'We have a strong Kapahaka group, which the parents have helped to make uniforms for. Every year the Kapahaka festival goes from town to town on the West Coast and the children all come together to participate. We are very involved with the community. Each year there is a book fair and we get involved by having Book Week. The children dress up as a their favourite book characters, and we invite people from the community to come and read their favourite books, such as the ambulance officer, the local public health nurse, the local volunteer fire brigade.
'We have an ageing parish so it's important to build faith in our young community. Our parishioners Moira, Bernadette, Sarah and Tony are among the stalwarts who do a lot to keep the faith moving and they prepare children for communion and confirmation. Every Wednesday, Fr Stefano celebrates Mass at the school and Sr Emaleti dolc of St Canice's Parish in Westport drives over to teach the children silent mediation. And we have a sacred space in our school garden that the children are care for.
'To me teaching is about the love of the children and the children here are very special – everyone says so. Their parents are farmers, farm workers, truck drivers, and we have an electrician and a police family. We have several Filipino migrants in the community.
'In a small place like this, the children can see themselves as very isolated so we try to strengthen our network with the wider Catholic community. Every year I take the students to a leadership meeting at St Peter Chanel in Motueka, and we interact with St Canice's School in Westport, St Patrick's in Greymouth and St Mary's in Nelson.
'The children are very involved with community outreach. They sing for the elderly of Zyman house, and for the Hokitika Home Care Association, who want to come back at Christmas time to hear the children sing. The children have raised $1000 towards percussion instruments for their carol singing in the street at Christmas and to participate in the local repertory. And our young Vinnies group are active with SVdP and the foodbank.'
Jill says, 'I really love it here. It's the children, the families and the faith.'
---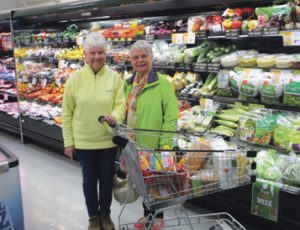 The Society of St Vincent de Paul Conference in Reefton began in the late 1970s. It continues today supported by the generosity of St Canice's Conference on the West Coast as Reefton doesn't have its own SVdP shop. Members' work involves visiting people in the hospital and rest home, and supplying food parcels, wood and coal. They also help at times with petrol if people are stranded. Most referrals come from the local Who Cares group who have a drop-in centre. There is also a very active group of Young Vinnies at Sacred Heart School.
---
Fr John Baptiste Rolland sm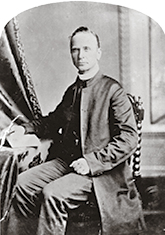 Fr John Baptiste Rolland joined the Marist order in 1861 and later travelled to Australia and then to New Zealand, where he was sent to assist Fr Forrest sm at Napier. He next went to Taranaki where he worked among the Māori and European population. He spent eight years in Taranaki, where he was a renowned chaplain during the 1860s' wars.
He visited the West Coast for the first time in 1869 collecting for a monastery he was establishing at Koru near New Plymouth. He returned in 1872 and for a third time in 1877 to Ahaura for eight years, where he ran a boarding school and taught about 60 pupils.
In 1884 he transferred to Reefton as parish priest until 1897, when Fr McNamara became parish priest. Fr Rolland remained as assistant priest until he died in 1903.
Fr Rolland was a constant traveller on horseback throughout the parish. He was a good horseman. Many stories were told of the distances he covered and times taken, especially when on sick calls that gave testimony to 'the courage of man and steed'.
During the Taranaki 'land' wars, Fr Rolland was recorded as 'conducting himself with distinction and valour'. This 'fearless soldier priest did not wait for the wounded to be brought to him. He went forward with the troops and attended the wounded and dying in every battle, treating Catholic and Protestants alike in his ministry. He gave last rites and helped haul the wounded from the bush 'with a confidence in attitude and without fear.'
Fr Rolland always his carried Mass kit. An incident in the Taranaki wars tells of a Māori warrior, who Fr Rolland had been instructing, being mortally wounded and requesting to be baptised. They were under fire and had no water. Fr went to his Mass kit hoping he had some water in it but there was none. The wine, however, had altered in appearance and the colouring of the wine and sediment had sunk to the bottom of the bottle and a clear water-like substance was on top. He used this to baptise the man before he died. Fr Rolland saw this as Divine intervention and as a manifestation of God's compassion and love for 'all men of good will'.  He considered himself as being 'privileged and fortunate to have known and been of service to one so loved by God'.
Fr Rolland's funeral in Reefton in 1903 was the largest Reefton had seen up to that time where he was laid to rest 'loved and respected by all'. His epitaph reads: 'A devoted priest who laboured twenty years in the Reefton parish. Died July 1903 aged 67 years, RIP.'
---
Br Michel Colombon
Br Michel Colombon was the first Marist Brother to arrive in New Zealand along with missionaries Bishop Pompallier and Fr Louis Servent sm, in 1838. Born Antoine Colombon in 1812 in a town south of Lyon in France, he died in Reefton in 1880.
Br Michel worked at the Catholic Missions at Hokianga and Kororareka in the Bay of Islands until 1841. Trained by Marcellin Champagnat to be a teaching brother, Br Michel found himself working as a cook and a handyman as the three missionaries sought to learn English and Māori. It was a difficult time for him. He worked at Tauranga and left the Society of Mary in 1841, then rejoined the Society at Hokianga before leaving again. The Marist Missionaries letters to France spoke of the loneliness and spartan living conditions. Br Michel confided to a Protestant Missionary that his vocation was a teacher not a mission man-of-all work. After leaving the mission, Michel settled in Matauri Bay where he worked as a tailor. He also acted as a catechist and teacher for the local Catholic Māori on Sundays.
Br Michel was also a noted gardener. He is attributed to have introduced oranges and other citrus fruits to the Pacific Islands and to have planted the first orange seeds in Tauranga. He produced the first rock melon in New Zealand in 1845. After travelling to Sydney for work on the Australian gold fields for a time, by 1870 he was back in New Zealand. He worked as a gardener in Reefton in 1876. Residents recalled gardens being laid out by a Frenchman called Antoine.  To others in Reefton he was known as 'Jimmy the Gardener'.  He died in Reefton on 14 March 1880 at 68 years. Fr Carew was the officiating priest. He said, '…Perhaps like the oranges in Tauranga, his unknown service to the Lord was lasting, fruitful and rich.' He was buried in the Reefton cemetery under his adopted name of Antonio Michel.