WelCom News
A newspaper for the Wellington and Palmerston North Catholic Dioceses
Te Wiki o te Reo Māori 2018 – Māori Language Week 2018
WelCom September 2018: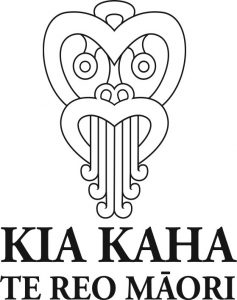 Māori Language Week, te Wiki o te Reo Māori, promotes the use of Māori language, one of the three official national languages of this country – Māori, English and New Zealand Sign Language. The dates for 2018 Māori Language Week are September 10–16 with the theme 'Kia Kaha Te Reo Māori'.
The Catholic Church in Aotearoa-New Zealand is committed to the bicultural relationship with Māori and taha Māori as an integral part of Katorika liturgy, activities and decisions.
---
Tēnā koutou, ī tēnā tātou i tēnei Wiki o te reo Māori
Greetings in this Week of the Māori Language
Deacon Danny Karatea-Goddard, Vicar to Māori-Turangi Māori
The Archdiocesan Māori Pastoral Care Team has three staff members:
Our work is to:Following the 2017 Synod, the Māori Pastoral Care Team has set a number of short and long-term goals. Our overarching focus is to support our people through working alongside the Archdiocese Vicariates of Catholic Social Services, Pastoral Care, Education, and Family & Young Church Ministries, and Managers.
provide Māori pastoral care to Māori Catholics, especially those who live on the peripheries;
ensure the distinctive identity of the Catholic Church in Aotearoa New Zealand with its Māori dimension is interwoven throughout all our pastoral work;
promote a bicultural approach to all our work and promote wider use of the Māori language, perspective and cultural practice through the adoption of the 'Kaupapa Māori Model';
employ staff with Māori capability and capacity and a commitment to learning;
engage directly with Māori Catholic community and individuals.
Among our Māori Parishes and Māori Catholic Communities our particular focus is to provide Māori pastoral care through advice, guidance, catechesis, support and resources to membership of Te Kahu o te Rangi, Māori Catholic communities, whānau and individuals; and to regularly visit our communities on the peripheries.
Please feel free to contact our team for advice, support and a kōrero.
Deacon Danny Karatea-Goddard, Tūranga Māori – Vicar for Māori
ph: (04) 496-1755; mob: 021 509 431; email: d.karatea-goddard@wn.catholic.org.nz
Rangimoeroa Waikari-Panapa, Kaiāwhina Māori
ph: (04) 496-1777 ext: 7760; email: r.waikari@wn.catholic.org.nz
Pā Gerard Burns, Parish Priest – Te Ngākau Tapu, Vicar General for the Archdiocese
ph: (04) 496-1737; mob: 027 7398 473; email g.burns@wn.catholic.org.nz
---
New Kaiwhakarite Māori Apostolate Co-ordinator for Palmerston North Diocese
On the Solemnity of the Assumption, 15 August this year, Korty Wilson was welcomed with a whakatau to her role as Kaiwhakarite Māori Apostolate Co-ordinator for the Palmerston North Diocese. Staff from the diocesan and cathedral offices in Palmerston North came together to welcome Korty, sing Marian hymns and share morning tea.
Korty was accompanied by her mother Vera Wilson and Kaye Oliver, a close friend from her home parish in Ohakune.
Korty's role is to support, strengthen and grow the relationship with Māori whānau and with communication and coordination of the Māori Apostolate in the diocese. Korty will be working with parishes, the youth team, schools and school chaplaincies, iwi and whānau in the diocese to help strengthen Miha Māori and tikanga Katorika Māori.
Korty said she is looking forward to meeting people throughout the rohe (area).
---
He Māori – He Katorika
Does that describe you?
Sr Tui Cadigan rsm, Kaiwhakahaere
Te Rūnanga o Te Hāhi Katorika o Aotearoa
I recently came upon a page I had kept from the NZ Catholic, November 1999. It was Pā Henare Tate's 'dream for an inculturated Church' and I would like to consider some of that here. In his korero Pā was speaking as Episcopal vicar for Māori within the Auckland Diocese quoting the Pastoral Plan, and I quote, 'That Māori retain and express their unique identity within the inculturated Church of the diocese of Auckland.' Surely that is what all Katorika Māori want in which ever dioceses they find themselves?
As Kaiwhakahaere of Te Rūnanga o Te Hāhi Katorika o Aotearoa, I am privileged to visit all dioceses and hear from Bishops delegates and people who come to our hui to shares their experiences, hopes and concerns on being Māori – being Katorika. It is an enriching experience and a great deal of wisdom is shared outside of the formal hui as we relax and talk about our faith, what brought us to this point and what sustains us. My experience as Māori Katorika for more than 60 years has been of small progressive steps forward and at times several hasty steps of retreat as the majority culture expresses discomfort with inclusion of any specifically Māori symbolism or ritual being embraced outside of pōwhiri and mihi whakatau. At times it is Māori who object wanting to separate who they are as Māori from who they are as Katorika. If a person identifies as Katorika Māori, the two sides form part of their total identity. To attempt to be less than that is to question God's gift to each of us, isn't it? Can one live the two dimensions fully without integrating them? I would say not within the Church, yet it is a struggle to find a faith community where it all comes together.
As a youngster I learned by rote the Catholic Catechism; one of the questions was 'who made you'? The answer was 'God made us to know love and serve Him'.
Can this be done in a Church that doesn't know who we are? It's a big ask when the whole Church has not yet managed to embrace even the sign of the cross and dismissal in Te Reo! However, there are signs of hope and the Hui Aranga, which continues to bring Māori together with all the rich ritenga tapu of Christ's death and resurrection to celebrate being Katorika with karakia, hīmene, waiata, haka, karanga, poi, whaikōrero is definitely one.
Pā Mikaere Ryan mhm, who has nurtured generations of Katorika Māori, including me, and who continues to produce many resources to assist people with their faith and empower Katekita and Kaiarāhi who are expected to lead their communities in prayer and ritual, continues to inspire hope. In the last few months there has been a big increase in those wanting to learn te reo through wānanga; even a fish and chip eatery in Wigram started with menus in te reo and has had record numbers coming to free te reo lessons. Wellington City Council has announced it wants to be a Te Reo Māori City and Rotorua has bi-lingual streets and road signs now.
While all of these are not strictly Hāhi Katorika these initiatives will help New Zealand-born and migrant peoples to embrace Te Reo as a unique taonga of Aotearoa and Iwi Māori as the first nation people of Aotearoa. Maybe it will be the blessing of migrant peoples to Iwi Māori that their acceptance of and engagement with our language blesses them with a sense of belonging and us with a recognition of our mana whenua and kaitiaki roles. It's not impossible!
The pastoral needs of Māori are multiple; one size does not fit all simply because we can be described collectively by the word Māori. As with all those of European or Asian descent there are distinctive intrinsic aspects that separate. The starting point is openness and acceptance of the complementary nature of roles within Māori society. An exclusive male-only model ignores the place of Kuia/Taua as nurturers of the faith in the native soil that is Māori. I am not advocating for a female priesthood here but a more inclusive pastoral model to serve Māori needs. An equitable sharing of diocesan resources will show the level of commitment and sincerity of Church leadership.
---
Katorika Kaumātua
A life well lived:
Pā Colin Durning
Former parish priest of Te Ngākau Tapu
Pā Colin Durning came to the priesthood as a late vocation after a life of remarkable achievements. Over the years he has not only been father to his eight children but also Fr Colin Durning, Professor Durning, as well as being recognised as a kaumātua by Māori. His daughter, Claire Warner, who lives in Texas and the whānau in Aotearoa share his story.
For the past 21 years William Colin Durning has been called Pā Colin, Father Colin, Colin, and Dad.
Born in 1927, Colin never planned his career but instead allowed the flow of life to carry him along. In 1951 he married Eve Black and they had eight children. He followed a career in dental surgery and received his PhD in anatomy at the University of Chicago. He worked in Chicago in the rehabilitation of people with cancerous tumours. After a short period back in New Zealand he and his family went to Peurto Rico where he worked in the medical school before leaving to work in Detroit for several years. When the Durning family returned to New Zealand Colin became professor of Dentistry at the Otago Medical School.
Working with and being able to connect with people has always been his greatest attribute and he was drawn to learning more about Māori culture language and concerns.
In 1970 he resigned as a Professor of Dentistry at the Otago Dental School and moved to Invercargill where he worked with borstal boys. He was a close friend of the poet and playwright James K Baxter who was also known as an activist for the preservation of Māori culture. Jim's work greatly influenced Colin and after Jim died, Colin lived for a time in Jerusalem on the Whanganui River. He moved to Porirua and worked with psychiatric patients at Porirua hospital for 14 years.
Colin's wife Eve died in 1995. Colin was commissioned as a katekita (catechist) by Bishop Max Mariu. Sometime later, Nina Mate of Tu-Hono came to Colin and said, 'We need a priest and we've been thinking of you'. Colin was ordained in 1996 for the Māori community by Cardinal Tom Williams a few months before his 70th birthday.
Colin has an open heart and loves the Māori people, so serving Te Ngākau Tapu made sense. Long before Colin became a priest he was given some advice by Kahu Ratana from the Whanganui River who said, 'Na te ngākau'. Kahu was basically telling him that you will never have problems or get into trouble if you always speak from the heart. Sound advice.
In 2002 at the age of 76 Pā Colin 'retired' to Port Chalmers but realised after a year that his heart and soul were still with Te Ngākau Tapu and he returned to Porirua and Te Ngākau Tapu where he still enjoys being part of the whānau.
Te Ngākau Tapu is whānau – part of his soul.
Today, at 91, Pā Colin's mind is still as sharp as a tack, but physically he has slowed down. So although he is no longer involved in the day-to-day workings of Te Ngākau Tapu he is a Kaumātua and is an integral part of the parish.
---
Makuini Elaine Johnson nêe Ransfield 1927–2018
Kuia of Pukekaraka, Ōtaki
Irene Mackle
E te Atua, hoatu ki a ia te okiokinga tonutanga
Kia okioki ki a ia te marietanga tona te Wairua
Ka whiti ki a ia i te maramatanga mutunga kore
Makuini was the kuia of Pukekaraka, Ōtaki for many years. She was: a fountain of knowledge; a spiritual leader; a guide for our priests, especially priests new to Pukekaraka and Maoritanga; a caretaker of Te Reo, a Waiata and Himine.
Mākuini was unfailingly polite and helpful to everyone she met. Her gentle disposition was āhua ngāwari to all. With her two friends, Kiripuai te Aomarere and Theresa Ngahie Rikihana, Makuini guided our parish of Hāta Mere rāua ko Hāto Hohepa (St Mary and St Joseph of Ōtaki and Levin) over many decades. The three kuia were great supporters of the Marist Māori Missioners, in particular Frs Frankie Wall, Dan Fuohy and Ike Gupwell. Requiescant In Pace to them all.
Makuini was an early pupil of Hāto Hohepa College, Hawkes Bay. She was an original participant of the Easter Hui Aranga but stayed home in later years to assist the parish with Easter liturgies.
She was one of our representatives at the 150th celebrations of Aotearoa's first Mass at Totara Point, 11 January 2015, North Hokianga, in remembrance of Jean-Baptiste Pompallier, First Catholic Bishop of Aotearoa New Zealand, 1836‒1869.
Makuini visited Fourvière (Lyon) in France, homeland of the Marist priests who establish the Mission at Pukekaraka Ōtaki. She also visited Rapa Nui (Easter Island) to re-establish the connections of Māori with the earliest tangata of Te Moananui a Kiwa.
Makuini started a pre-school at St Peter Chanel School, Otaki, and followed with a bilingual class. She also ran evening Māori culture classes for adult parishioners.
She had a strong devotion to Our Lady, the patron of our two churches, our meeting house and the parish, and would say, 'Just ask Mary, if she wants it to happen, it will happen.'
Makuini was laid to rest at the urupa of Te Pō o Tainui Marae. She is survived by her husband Jack and children Moariki, Chris and Robyn.
---
Pakipaki Whare Karakia
A restoration project for the Church of the Immaculate Conception Pakipaki 1880
A project is taking place in Pakipaki, Hastings, to restore the original Church of the Immaculate Conception. It was originally built in 1880 under the auspices of the rangatira, Urupene Puhara, the Venerable Suzanne Aubert and Fr Christophe Soulas of the Society of Mary.
The full name for the village of Pakipaki is Te Pakipakitanga o Hinetemoa, after a Chietainess Hinetemoa (c. 1600).
The church served the Catholic Māori Mission until the 1960s when it was deconsecrated. A new Church was erected and again named of Our Lady of the Immaculate Conception. It was consecrated on 28 April 1968.
The aim of the restoration project is to:
honour those who laid the foundations of the Māori Mission in Hawke's Bay,
honour the memory of the Venerable Suzanne Aubert,
restore the building for the iwi, hapu, all New Zealanders and visitors to enjoy in the future.
These photos show various stages in the life of this taonga.