Building Families of Faith
Formation in faith is an ongoing part of the lifelong human journey. Every Christian at every stage of life is challenged to continue to grow and learn more about what it means to be an authentic, contemporary disciple of Jesus Christ. The Archdiocese of Wellington is committed to the fostering of locally driven and delivered programmes of adult faith formation covering the lifespan.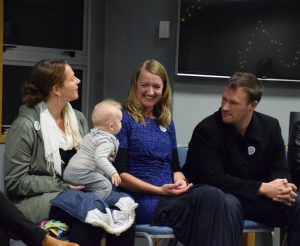 Faith formation, however, begins in the family and, if it is to be effective, it is essential that parents are equipped with the faith tools and confidence to make their homes centres of lived faith. To this end, the efforts of Family and Young Church Ministries in the Archdiocese will be particularly focused on nurturing the faith of parents of young children. We're calling this programme, Building Families of Faith and we're underway!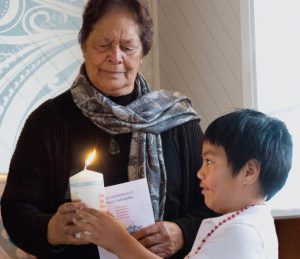 Initially, our focus is to work with our Catholic Primary Schools, meeting with and encouraging parents of New Entrant pupils. Exploring what faith means in family life and equipping parents to live faith at home is our purpose.
For more information or to see if Building Families of Faith has started in your school or parish, contact:
Lucienne Hensel
l.hensel@wn.catholic.org.nz
04 496 1715; 021 164 5800
or
Chris Duthie-Jung
c.duthie-jung@wn.catholic.org.nz
04 496 1759; 021 0230 5149
Sacramental Preparation
The Archdiocese has prepared a new programme of sacramental preparation that equips parents to take the lead in preparing their own children. Parishes are free to adopt and adapt the new resource as they see fit. To arrange an introduction to the new Sacramental Programme contact Lucienne or Chris.

Lucienne Hensel, Family Ministries
"If a family is centered on Christ, he will unify and illumine its entire life" – Pope Francis, Amoris Laetitia 317
As Catholic parents, our vocation is to be the first and best teachers of the faith to our young ones. The Family Ministry office seeks to strengthen parents' own faith, equipping them to pass the faith to their children and bring them up in the love of Christ.
My name is Lucienne, and I come from Malta. I arrived in New Zealand with my husband Rainer in 1996. We have two young adult sons and a younger one who recently turned 13. As a family we served as full-time missionaries with the ICPE Mission, based at St Gerard's Monastery, until 2012. I am a graduate of the Launch Out Lay Pastoral Leader formation program and for the past eight years have worked in Wellington South Parish, in an administrative role. I have always enjoyed being involved in pastoral ministry with families and young people, and am thrilled to be part of the Marriage, Family and Young Church team.
If you would like to know more about Family Ministry in the Archdiocese, please contact me. I would love to hear from you!
To contact Lucienne: l.hensel@wn.catholic.org.nz; 04 496 1715; 021 164 5800