Being a Lay Pastoral Leader is a calling to a radical way of being and working in the Church. It is more than a career but an invitation to be missionaries in the home front. It is a rewarding service of bringing people together as a church and being part of people's journey.
Launch Out is the formation programme designed and initiated by the Archdiocese of Wellington for future lay pastoral leaders.
Launch Out has been set up to train and form lay men and women who are interested in full or part-time ministry in the Church. As churches have merged into larger parishes, the Archdiocese will need more lay pastoral leaders to lead parishes and the different ministries and chaplaincies in the Archdiocese.
Launch Out is comprehensive, practical as well as theoretical, and grounded in the principles of pastoral spirituality.
Launch Out has produced Lay Pastoral Leaders, ministers in various Catholic organisations and chaplains in the Archdiocese of Wellington. Several have worked in senior chaplaincy roles for the New Zealand Catholic Bishops Conference. Some of them have been also invited to work in other dioceses.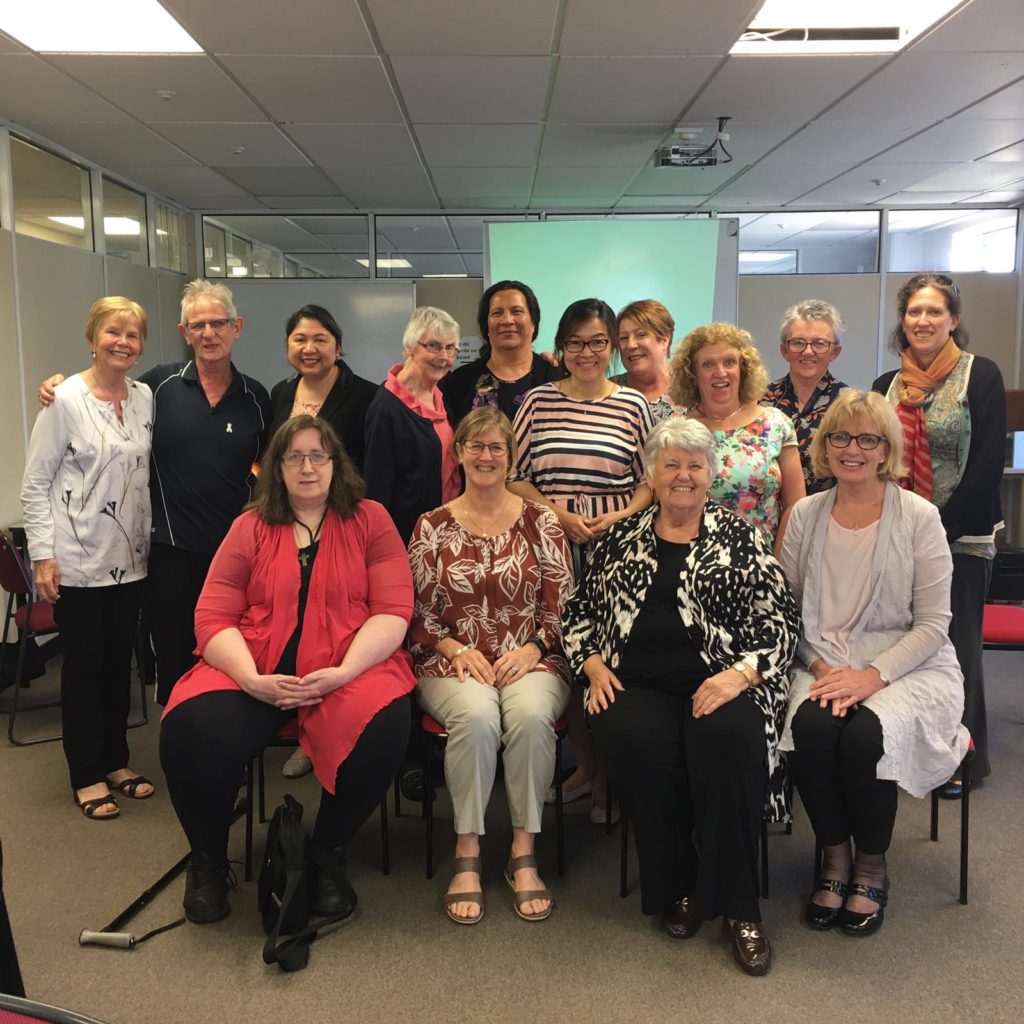 History of Launch Out
1988 – Archdiocesan Synod
1998 – Archdiocesan-wide consultation
1998 – Archdiocesan Synod mandates introduction of Launch Out Formation Programme and Lay Pastoral Leaders
1999-2001 – Formation programme for Lay Pastoral Leaders established
2002 – Appointment of Launch Out Formator/Manager and acceptance of first candidates
2006 – First Lay Pastoral Leader appointed to a Parish within a Pastoral Area
2008 – Appointment of the first Launch Out graduates to Prison and Hospital Chaplaincies
Synod decisions
2017 "Go you are sent…to find leaders"
1998 " Appropriate formation in pastoral ministry is to be provided so as to prepare candidates for appointment to parish leadership responsibilities".


Present Launch Out Candidates
Telesia Alaimoana – Telesia was born in Samoa, a mother of two and married to Simati. Telesia is a qualified Social Worker who currently works as a Facilitator Support of the District Health Board and has extensive experience in the health and disability sector. She is passionate about engaging with the Samoan community and finding ways to enrich their contribution to the Church. Telesia is currently active with Our Lady of Hope parish in Tawa and Titahi Bay.
Lisa Beech – Lisa originally from Australia, now living in Wainuiomata and a mother of Kaisa, Lakan and Datu. She is a fixture in ADW having worked in Caritas and Catholic Social Services. At present, she is the Ecology, Justice and Peace Advisor to the office of the Archbishop. She is a student of Te Reo Māori and is working towards completing a Master of Public Policy at Victoria University. She is currently involved both with the Maori Eucharistic community- based at Te Kāinga Catholic marae in Kilbirnie and Te Wairua Tapu parish in Lower Hutt.
Margaret Bearsley-Margaret originally hails from the rural farming community of Te Rore in the Waikato, with European connections from Bohemia on her Mother's side and Britain on her Father's, who settled in Aotearoa New Zealand in the 1800s. Margaret studied theology through Holy Cross College Mosgiel in the late 1980s and, after two years working at the National Centre for Religious Studies in Auckland, studied law at Waikato Law School. She has lived in the wider Wellington region since moving there with her husband in 1997. She moved from the Hutt Valley to Rongotai in Wellington's Eastern Suburbs in 2008 when her husband was very ill and had been living in care since 2002. After he died in 2011 she began to consider how she could become active in parish life, initially beginning with St Vinnies a few years later. Her intentions on becoming a member of the Holy Trinity Parish Pastoral Council in 2019 were to help the parish flourish as a united Catholic community and to support the spiritual growth and missionary outreach of parishioners.
Theresa Begley- Theresa hails originally from Scotland. She came to New Zealand as a child and grew up in Wellington. When Theresa and Rex Begley married, they moved to Palmerston North where they both worked in various roles in the Palmerston North diocese. After raising their five children they spent three years working at Southern Star Monastery [Kopua] before moving to Jerusalem/Hiruharama up the Whanganui River to work with the Sisters of Compassion and the local Maori Community at both Ranana and Hiruharama. They are currently living in Carterton within the parish of Wairarapa.
Mely Kartawidjaya– Mely was born in Jakarta, Indonesia. She was with the ICPE Lay Missionary Group, where she served as lay-missionary to Indonesia, Philippines and now New Zealand. At present, she works as the Office Administrator of the Catholic Enquiry Centre. She along with her husband, Petrus and their two children, Michael and Viola, attend Wellington South Parish. Mely is passionate about children's liturgy and finding creative ways to engage young people into their faith.
Patricia Lynch – is New Zealand born of Irish descent. She has been teaching for eleven years and is currently Assistant Director of Religious Studies at St. Mary's College, Wellington. Prior to teaching, Patricia had a career in Air New Zealand. She has a Master of Religious Education from the Australian Catholic University. Patricia regularly participates in group prayer and is presently affiliated with Holy Trinity Parish in Kilbirnie.
Jude McKee- Jude is New Zealand born. She has two older brothers and a younger sister. She presently cares for her elderly mother and is a 'professional' aunty to her nieces and nephews. She feels lucky to be employed as the Office Manager with Wellington Rugby and The Hurricanes, given she has a love of the game of rugby instilled in her from birth by her Dad! In her sharing of her faith, Jude is passionate about bringing people together to pray and to share their stories over a meal. She is very active within the Plimmerton Parish of St Theresa's and has a special interest in ensuring the youth of the parish is actively involved in praise and worship.
Bernadette Patelesio– Grew up in Petone and now living in Wainuiomata for the past 25 years where she and husband Peter raised five children. She currently works as an Analyst in the Healthcare sector and has also spent some years in Social Services. She is an active parishioner at St Patrick's, which is part of Wairua Tapu Parish, as a volunteer musician. She loves the challenge of choosing, learning and sharing Mass music and finding ways to make people feel they belong and welcomed in the Church.
Vicky Raw– Vicky was born in London, England, where her father and sister currently reside. She works as a research associate for Plant and Food Research, specialising in viticulture in Blenheim. She first joined Launch Out in 2004 and is now relaunching into Launch Out. She is active in her parish of Te Whetu o te Moana (Star of the Sea) in sunny Marlborough. She is also a member of the Archdiocesan Pastoral Council. Vicky speaks fluent French, Spanish and Portuguese. She is passionate about forging and building strong partnerships between and within the local parish and the school communities, celebrating Marlborough's cultural diversity, sharing good food and wine, promoting the dignity of every human being most of all being a beloved child of God.
Application Process
The prospective candidate submits a completed application form and curriculum vitae, with contact details of at least three referees. The application period runs anytime from January to October.
An initial interview is set with Maya Bernardo, the Launch Out Formator and Manager
The prospective candidate is then interviewed by a panel, consisting of Cardinal John Dew (Archbishop of Wellington), Mary-Ann Greaney (Director, Parish Leadership Ministry) and Maya Bernardo. Acceptance into the formation is the panel's decision.
Commencement to the programme begins in the year following the acceptance period (E.g. if you were accepted this year, you will start the following year). From thereon, the applicant becomes a Launch Out Candidate.


Formation period
The formation programme can last between 4 to 8 years, as the Candidates balances Launch Out with the needs of their jobs and families.
LO Candidates are appraised twice within the formation programme.
Candidates who satisfactorily complete the programme will be endorsed by the Archbishop, and their availability for a pastoral leadership position will be made known throughout the Archdiocese. Although there is no guarantee of employment for a Lay Pastoral Leadership position upon completion, the Launch Out endorsement is highly considered by many Catholic organisations in looking for possible leaders for the different ministries.


Formation programme
The programme is an integration of three formation programmes, namely: Theological Formation, Spiritual Formation and Pastoral Formation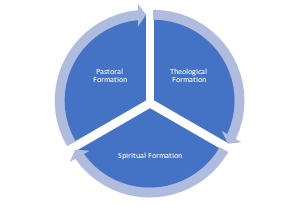 Pastoral formation
LO Candidates are given a plethora of experiences to acquire practical skills in working in a parish setting. These experiences also inform their discernment of whether being a Lay Pastoral Leader is suited to their gifts. LO Candidates are asked to run a total of 4 projects within the formation year. They are will be given a chance to assist a Lay Pastoral Leader in doing some of their jobs in the parishes (e.g. organising sacramental services, processing documentation, etc).
Theological Formation
Like most professions, being a Lay Pastoral Leadership has its distinct qualification. It is important to equip a Lay Pastoral Leader with the theological knowledge in running ecclesial organisations such as parishes, faith communities and the different ministries. Hence, a Launch Out Candidate will be required to enrol the NZ Certificate in Christian Studies- Christian Ministry Strand (NZCCS-CM) and the NZ Diploma in Christian Studies- Christian Leadership Strand (NZDCS-CL) from Te Kupenga Catholic Leadership Institute (former The Catholic Institute) www.ctc.ac.nz. The cost for the studies is to be shouldered by the Launch Out Candidates.
Course would include:
NZ Certificate in Christian Studies Christian Ministry Strand (NZCCS-CM)
SC501 Understanding the Old Testament
SC502 Interpreting the New Testament
TH501 What Catholics Believe
TH502 What is Theology
TH504a Catholic Social Teaching for Ministry
TH505a Christian Ethics in Ministry
NZ Diploma in Christina Studies, Christian Leadership Strand (NZDCS-CL)
TH601 The Sacraments Today
TH603 Renewing the Church
LD601 Values and Ethics in Leadership
LD602 Liturgical Leadership and Practice
LD603 Models of Biblical Leadership
LD604 Skills in Pastoral Leadership
TH609 He Tῡranga Whakaaro-A Place to Stand and Share
LD605 Leadership and Ministry
Launch Out Professional Papers
PM602 Celebrating Liturgy
TH602 Jesus the Christ
TH620 Studies in Church History
Spiritual Formation
LO Candidates need to nurture a robust life of prayer, where they constantly reflect on the movement of the Holy Spirit in their lives. The Spiritual Formation helps the LO Candidate piece together the learnings they get from the Pastoral and Theological Formation. The Launch Out Candidate will be required to see a spiritual director once a month for at least 10 months in the year, attend 3 Prayer Days, and 1 Retreat in a year. The cost associated with these activities are undertaken by the Archdiocese.
For further information about Launch Out contact Maria Aurora (Maya) Bernardo, PhD at m.bernardo@wn.catholic.org.nz 04 496 1582
The Launch Out Programme produces a monthly newsletter we call LOL or Launch Out Letter, it contains updates about the programme and some useful resources for the parishes.