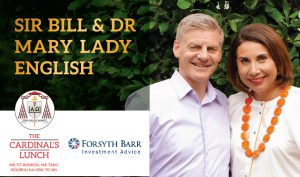 A regular gathering for Catholic business and community leaders is one of many new initiatives stemming from the 2017 Archdiocese Synod, to particularly engage with new future leaders. Primarily this initiative aims to:
find leadership in the Catholic community;
create new environments where business and community leaders can engage with the Church;
provide opportunities for Catholics to be inspired and encouraged to live out their values in daily working life.
Cardinal John Dew has expressed his hope the network will bring together business and community leaders to reflect on faith and how it can relate to business life.
'We are blessed with a large network of people in the Wellington community who are Catholic. I hope this will be a dynamic forum where they feel they again engage in their faith and encourage one another to live out our Catholic values in the workplace.'
Sir Bill and Dr Mary Lady English will address the initial event and will give a behind-the-scenes account of the importance of their faith as parents, as professionals and as public figures.
The luncheon series will provide networking opportunities for practising and retired professionals to connect with Church leadership and to hear from dynamic speakers, including local, national and international leaders.
Series organiser David Powick says this is a trend developing in dioceses around the world to form stronger Catholic networks among active and retired Catholics.
'Similar luncheon series have rapidly grown in the Diocese of Christchurch, which saw the successful establishment of the Catholic Business Network last year, and in the Archdioceses of Sydney, Brisbane and in the United States where the idea first began and remains vital to the life of the Church.'
The Archdiocese aims to hold four luncheons throughout the year as well as a range of activities to give people opportunities to get to know the Archbishop and clergy and fellow Catholic businessmen and women in the community.
The first luncheon is scheduled for Wednesday 8 August in downtown Wellington. To book your place at the Cardinal's Lunch please visit www.cardinal-s-lunch.lilregie.com