WelCom December 2018:
Kathryn van Woerkom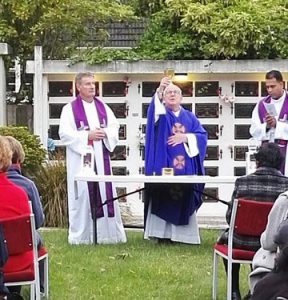 The breezy evening didn't keep the large crowd away from All Souls' Mass held this year at Taita Lawn Cemetery. A gathering of 140 parishioners from Te Awakairangi Parish and surrounding Lower Hutt church communities came together to remember their loved ones who had died.
Fr David Orange celebrated Mass in front of the RSA wall and alongside the Ash garden. Fr Patrick Bridgman gave the homily. They were accompanied by Barbara Rowley, Fr Joy Thottankara and Fr Cirilo Barlis. Representatives of the parish's four mass centres served as musicians and readers.
Parishioners sat in family groups on chairs or on rugs in the surrounding area. It was wonderful to see people of all ages honour and pray for spouses, parents, grandparents, children, grandchildren, friends and colleagues. After Mass had ended, they took tea-light candles around the cemetery and placed them on the graves of those they had loved.
This annual celebration has been a tradition in the parish for over 20 years. Please join us for next year's All Souls' Day Mass, November 2, at 7pm. If the weather is wet, Mass will be held in St Bernadette's Church, Naenae Road.