Bernard Leuthart
4 October 2011
Stand in here beside me and take the strain. – Seamus Heaney.
My mother, Cushla, was fond of pictures. She had a smart collection of NZ artworks and, having my eye on at least a couple, it was my standing joke to suggest often that she get out her stickers and initial the back of them for me.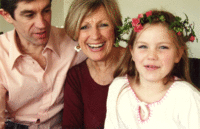 Invariably, she would smirk and quip back – 'I'm not going anywhere'. As God would have it, she was, in fact. Much to my Mum's evident annoyance, she was diagnosed in August 2010 with advanced metastatic cancer of the pancreas. As diagnoses go, this one is undoubtedly a ticket to ride.
Compliant with most things in life, Cushla followed that classic Kubler-Ross curve in managing her grief around this sudden change in life's trajectory. As a son and, as a son who is also a doctor, I had the privilege of standing beside her as she reeled through shock, denial, anger, certainly bargaining, and – very late in the piece – a graceful acceptance. It was a hair-raising, frustrating ride for much of the eight months until her death.
A low-impact, high-end palliative chemotherapy bought her time – stopping the ugly crab in its tracks for four or five months. She had never had trouble accentuating the positive and she quickly brought her natural ebullience and joie de vivre to bear on what could have been a misery.
She was straight with me. I wasn't to say the word 'death'. I was to have 'real hope'. I was frequently 'her rock'. I felt miserable.
I thrashed around in my own grief, not knowing what advice the son or the doctor could best give or how best to be heard giving it. I battled, I see now, with my own ideas about acceptance and how people who are dying walk that tricky rope. Forward-looking and unfussed about minutiae in life, Cushla was never going to make a quick surrender to the inevitable in her dying. Her acceptance, her method of coming to a good end in God, was never going to be articulated the way I desperately wanted it to be.
In the end, in the days following Easter, she came to death beautifully. She spent a final day (how the dying know that this is the day still mystifies me) calling people, engaging each of us, saying the most deeply intimate, loving things. I was able to tell her that I was so many things because of her. Fr Tom Lawn came and gave her the viaticum eucharist – food for the journey – and within hours, she was on it; dying serenely with us beside her. My Dad was magnificent and continues to be. I shambled through.
What did I learn?
I learned that life has value regardless of quantity and quality and how we do acceptance. I learned to shift my narrow frames of reference a bit. And I learned some lovely Latin: Dei plena sunt omnia – All things are full of God.
Bernard Leuthart is a member of the Archdiocesan Pastoral Council.