International pressure is being urged on Burma's military junta after a court sentenced an American Burmese man on February 10 to three years' hard labour on what his lawyer calls 'sham charges'.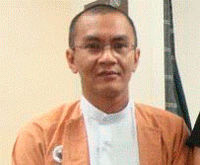 Nyi Nyi Aung was arrested at Rangoon Airport on September 3 last year on his way into the country to visit his mother who has cancer and who is also in prison as an activist for democracy.

Nyi Nyi's lawyer, Jared Genser, said in a statement after the sentencing that, instead of informing the US embassy of Nyi Nyi's arrest, 'the junta spent a week denying him food and water, keeping him awake around the clock and repeatedly beating him.

'These actions are clear violations of both Burma 's obligations under the Vienna Convention on Consular Relations and the international law prohibition against torture.'

He said that, over the ensuing five months, the junta continued to deny Nyi Nyi consular access and access to lawyers and a public trial.

Nyi Nyi was also denied access to his family throughout his period of arrest and placed in solitary confinement for a month.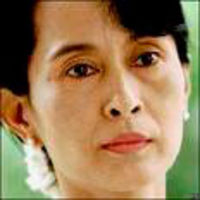 The Burmese junta is one of the most repressive regimes in the world. There are more than 2,100 political prisoners in Burma including the general secretary of the opposition National League for Democracy, Aung San Suu Kyi, who is also the world's only imprisoned Nobel Peace Prize Laureate.

Since 1990, the junta has destroyed more than 3,000 villages and rapes, tortures, and murders these minorities. The number of internally displaced persons is overshadowed only by the more than one million refugees who have fled to neighbouring countries.

Mr Genser says it is critical that the US, United Nations, and international community engage with the Burmese regime to secure national reconciliation and a restoration of democracy.
'However, the junta must first understand that engagement is possible only if it operates within the international norms of acceptable behaviour in how it treats its own people and conducts its foreign relations.
'The junta must realise that the torture and illegal imprisonment of an American for his democracy advocacy will not be tolerated by the US and the international community.'

Speaking from his position as president of Freedom Now, Mr Genser urges President Barack Obama and US Secretary of State Hillary Clinton to personally call on junta leader Than Shwe to immediately release Nyi Nyi Aung.
For more on this story: www.washingtonpost.com/wp-dyn/content/article/2009/12/23/AR2009122302981.html
and a background story in The Economist
http://www.economist.com/world/asia/displaystory.cfm?story_id=15498377