WelCom September 2020
Jane Langham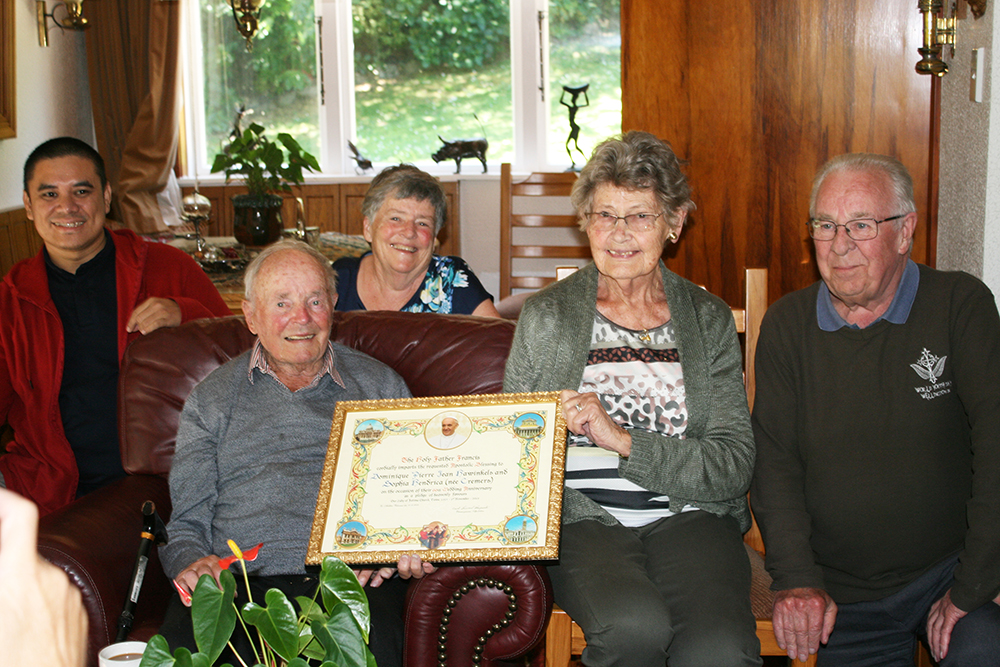 A surprise presentation was made to Dominique and Sophia Harwinkels at their home in Tawa just before Christmas last year. The gift of an Apostolic Blessing from Pope Francis had been requested by their family to mark the couple's 60th wedding anniversary, on 7 November. Dominique and Sophia are one of Tawa's longest resident families and parishioners of Our Lady of Hope Parish, Tawa-Titahi Bay.
On 21 December 2019, Fr Rico de la Torre, parish priest, along with Fr John van der Kaa, immediate past parish priest and Marie Prescott, parish council chair, presented Dominique and Sophia with the framed Certificate of Blessing.
Dominique Pierre Jean Hawinkels and Sophia Hendrica Cremers were married in Our Lady of Fatima Church in Tawa on 7 November 1959. It was one of the earliest weddings in what was then a relatively new parish. Fr Homan, chaplain to the Dutch community at the time, officiated at the wedding. It was in the original, small wooden church on Rewa Terrace, which existed before the present large church was built and opened on Main Road in 1966. The couple's wedding was one year after they came to New Zealand from the Netherlands, having been advised it was easier to get immigration visas and jobs coming as single people rather than a married couple.
They have lived in Tawa ever since their marriage, in the house that Dominique built – initially just big enough for the couple to live in it once married, then gradually extended to become a magnificent home for them and their five children.
Jane Langham, editor, Stories of Hope, Our Lady of Hope Parish, Tawa/Titahi Bay.