Archbishop John Dew
2010
'Believe in the whisperings of God to your own heart.' These words of St Mary of the Cross MacKillop greeted me when I walked into our cathedral on my return last Friday from my sabbatical leave.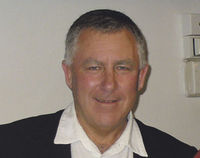 I hope that many parishioners throughout the archdiocese have seen the wonderful banners hanging in the cathedral to remind us of the life and work of St Mary of the Cross MacKillop and to celebrate and give thanks for her canonisation.
Over the last few days since I returned from leave many people have asked me if I am going to write about or talk about my experiences. It was never my intention to do so but, because many have asked, I will share some of the highlights.
Over the time of travelling, I saw, read, prayed with and reflected on many things but somehow those words of St Mary of the Cross summed up all that has happened for me and all that I wish for and pray for in our archdiocese – 'Believe in the whisperings of God to your own heart'. I realise that I am blessed to have had the time away to follow the Footsteps of St Paul through parts of Turkey and Greece, to be a participant at the Passion Play at Oberammergau.
The highlight for me would have to be my Camino walk across Spain. I walked for just over 800 km in 30 days − a time to reflect, ponder and give thanks. I was blessed in the sense that I had no problems at all on that long walk, apart from one tiny blister. The first three hours of my walk were in torrential rain but, for the next 30 days, there was not another drop.
The pilgrimage from St Jean Pied de Port in France to the tomb of the Apostle James at Santiago de Compostela has enriched my life. There were hundreds of people walking the Way of St James (the Camino), but most days I chose to walk alone to make the most of the chance to reflect and give thanks to God.
There were plenty of opportunities to make it a real pilgrimage with most parish churches along the way having a pilgrim Mass every evening and a special blessing for pilgrims.
I chose some saints as patron saints to be, as it were, my companions along the way. They were St James because I was walking to his tomb in Santiago, St Paul because I had just finished three weeks of following his missionary journeys, St Catherine of Siena as she has always been a favourite of mine − I have a wonderful painting of Catherine of Siena entitled 'Woman on the move', St Joseph because he too has always been a favourite. The day I started I saw a wonderful painting – 'The flight into Egypt' − with Joseph as the Protector, so he obviously became one of my companions. Finally, St Mary MacKillop accompanied me on my way to her canonisation.
I also added Wellington's own first bishop, Philippe Viard, because I was thinking of his missionary journeys and the way he brought the gospel to New Zealand.
As I walked along I hummed and sang hymns to help me to reflect. Then I realised I needed a 'theme hymn' and immediately the words came to me from that powerful hymn, 'Let all mortal flesh keep silence'. As I walked I knew I didn't have to say much, but simply to be silent and aware that I was walking in the presence of God.
A breather at Fatima
I had a few days after finishing the Camino before I was due in Rome at the Synod for the Middle East. I spent four of those days at Fatima. They were a real blessing − a time to pray and reflect and to enjoy the peaceful, prayerful atmosphere of a place to which so many people make pilgrimages asking Mary to intercede for them.
The time at the synod was hard work because much of it was in other languages and it was difficult to listen and concentrate on translations. However, to hear of the experiences of Christians in the Middle East, the difficulties they face, the political situations which don't always allow them to express their faith, again showed me how privileged and blessed we are.
Saintly celebrations
Then in the middle of the synod there were the celebrations for the canonisation of St Mary of the Cross MacKillop. They were wonderful days with a song and dance presentation of Mary's life the night before the canonisation, a Thanksgiving Mass at St Pauls Outside the Walls with about 7,000 Australians and a few Kiwis scattered through the congregation.
In many ways for me this was the highlight of the celebrations because everyone was able to focus on St MaryMacKillop alone − at the canonisation ceremony there had been five other saints, from Italy, Spain, Canada, Poland and Germany.
When I returned I was delighted to find those words of St Mary of the Cross in our own cathedral. 'Believe in the whisperings of God to your own heart'.
I had the opportunity to do that particularly on my pilgrimage across Spain and I am deeply and immensely grateful.
My hope, my prayer, for each one of us is that we continue to find space – even if it is only a few minutes each day – to ponder and reflect and to believe in the whisperings of God to our own heart.