Schools
Mary-Ann Greaney
29 November 2012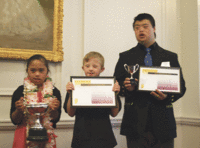 Three students from Catholic schools have received awards for special achievements this year.
The Frances Clarke Memorial Awards recognise special achievements by people with Down syndrome in the greater Wellington area.
The awards also provide an opportunity to draw public attention to the worthwhile contributions people with Down syndrome can make in the community.
Nine-year-old Vanya has made great strides in her learning and in her ability to work comfortably in a mainstream class.
As a Year 5 student at Holy Family School in Porirua Vanya is now a confident and valued member of the Poly Club and a trusted librarian and takes responsibility as the daily messenger for the Holy Family News.
Vanya has struggled to make and keep friends but now her school mates describe her as playing fair and taking turns,
'She is kind to you when you are sad and plays with you.'
Aden, who's 11, has a 'can-do' attitude within and outside the school. He represented St Brendan's Heretaunga in cross country runnng and was placed second in his grade in the Wellington District Schools athletics tournament.
He is also a member of the school kapa haka group, the youngest member ever of the Hutt Valley special Olympics swimming squad – he has been swimming since he was three – and loves participating at Cubs and riding for the disabled.
He indulges his love of soccer by playing competitively year round and is an active member of Starjam.
Keegan, 16, is a graduate of St Francis de Sales School, Island Bay. He is now in Year 12 at Rongotai College and in a Year 11 mainstream computer class.
He is a popular and confident student who enjoys hanging out with friends and kicking a soccer ball around the field.
Speaking did not always come easily for Keegan but with perseverance he has shown great character by repeating himself or finding other ways to get his message across. Once shy and quiet, he has made much progress and is now mature and confident and his efforts to communicate are outstanding. He relates well to his peers.
This is not his first award. Keegan received the Jamie Allison Cup for being the best ambassador for his school's special class Tamatoa in 2011.
The Frances Clarke Memorial Awards were instituted in January 1990 in memory of a special little girl, Frances Clarke. She was born in 1985 with Down syndrome and died four years later from leukaemia.
Award recipients receive certificates and a small cup to keep. The main trophy is shared between recipients during the year and returned for the next ceremony.
Image: Vanya Hope Reedy from Holy Family School Porirua, Aden Young of St Brendan's Heretaunga and Keegan Joe from Island Bay parish at Government House after receiving their awards on October 17. (Photo: Jason Young).