Parishes
Olivia Wallis and Kodee Arbuthnott
9 November 2011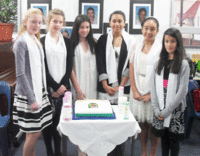 Ss Peter and Paul school in Lower Hutt has celebrated the baptism of a group of year seven and eight intermediate girls.
Frs Bruce England and Verghese Thuruthichira baptised Elodie Tafatu, Emmerson Cole, Caitlin Walker, Ashlee Curtis, Rongomai-Wahine Hamlin and Leiloa Tanuvasa-Kamo on Friday August 12 in the parish church.
The girls decided to be baptised at this stage in their lives because they didn't have the opportunity when they were younger. Being at Ss Peter and Paul's school has given them the chance to take this step.
To help the girls on this first step in their faith journey, parishioner Kathryn van Woerkom taught them all they needed to know about baptism.
On the day of the baptism, parents and supporters came to join the girls and other school students in the celebration. After the ceremony the celebrations continued with morning tea.
We wish Elodie, Emmerson, Caitlin, Ashlee, Rongomai-Wahine and Leiloa all the best as they take further steps on their journey of Faith.
Image: Ashlee, Emmerson, Caitlin, Leiloa, Rongomai-Wahine and Elodie