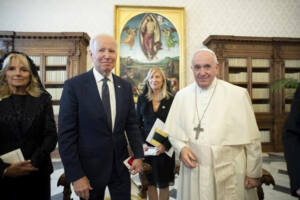 WelCom November 2023
President Joe Biden and Pope Francis spoke by phone on 22 October 2023 to discuss the conflict in Israel and Gaza and facilitating a path to 'durable peace' in the region, according to the press offices of both leaders.
'The President condemned the barbarous attack by Hamas against Israeli civilians and affirmed the need to protect civilians in Gaza,' according to a readout of the call from the White House. It added the pair discussed the president's 'recent visit to Israel and his efforts to ensure delivery of food, medicine, and other humanitarian assistance to help alleviate the humanitarian crisis in Gaza'.
'They also discussed the need to prevent escalation in the region and to work toward a durable peace in the Middle East.'
The Holy See Press Office said the conversation lasted around 20 minutes, and the Pope and the president spoke about 'situations of conflict in the world and the need to identify paths to peace'.
Earlier that same day at the Angelus prayer, Pope Francis called for peace in the Holy Land.
'I am very concerned, grieved,' he said. 'I pray and I am close to all those who are suffering, the hostages, the wounded, the victims and their families.' He appealed for more humanitarian aid for Gaza and said he also was praying for the suffering people of Ukraine.
Since the phone call an increasing number of humanitarian aid convoys have been allowed into Gaza from Egypt, bringing urgently needed medicines and food.
During his Sunday Angelus on 29 October Pope Francis called for an immediate ceasefire in Gaza amid escalating violence and a humanitarian catastrophe in the enclave. He also renewed an appeal for the release of all hostages held by Hamas.