Palmerston North
Cecily McNeill
4 October 2011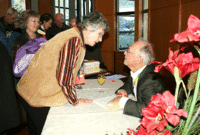 As Bishop Peter Cullinane approaches his 75th birthday in November, the age when priests can expect to retire, he launched his latest book Openings to Renewal at the Let Us Pray symposium in August.
Church historian John Broadbent's comprehensive review will be published in Wel-com next month.
Meanwhile, Cardinal Tom Williams says in the foreword that Bishop Peter is 'well qualified to [dialogue and communicate the gospel plan for the Church's mission] from his 30 years of episcopal ministry, not only serving his own diocese, but also representing the New Zealand Catholic Bishops' Conference in a number of areas central to the mission of the Church.
'Together with his fellow bishops he has taken part in four Ad Limina Apostolorum visits to meet with the Holy Father and with officials of the Vatican dicasteries, and has taken part in two synods of bishops.
'Careful scholarship, pastoral sensitivity and compassion permeate each letter of this book. There is no one responsible for pastoral care in parish or chaplaincy who could not profit from the analyses, explanations and insights contained in each 'opening to renewal' discussed by Bishop Cullinane.
'It would not be out of place for some of these letters to be issued as a pastoral letter intended for every parishioner and for some to be addressed to synods of bishops.
'Readers, whatever their roles in the Church and its renewal, through study of these letters, will be encouraged to contribute to warm, inclusive and collaborative community, wholehearted and joyful celebration of Mass and sacraments, ready willingness to open themselves to growth and transformation, eagerness to serve those in need, enthusiasm to proclaim the good news of redemption and readiness to witness to their faith by the manner of their lives, their efforts to advance Church unity and their concern to build a just society.
Former Dominican leader Timothy Radcliffe calls the book, 'A breath of fresh air', the words of a man 'who is unafraid to share his faith and his questions.'
Image shows Bishop Peter Cullinane talking with Jane Langham of Tawa while signing copies of his book launched during the Let Us Pray symposium in August 2011.