Many things have changed since my stroke. My thought patterns have altered and I notice a lot more detail. One thing I don't have is a natural 'fall back' position in which I think about things. I think that was one of the many mental 'hard discs' that fell to the floor four years ago. I have to be careful of just thinking and thinking about things and getting absolutely nowhere. Before the stroke I could think of a thousand things in a thousand ways. This just doesn't happen any more.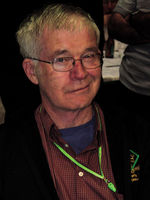 The other is detail. I see little things going on now that I wouldn't have noticed before. They are small, incidental things which are quietly humorous and keep me endlessly amused. Never is this more so than on long car trips. Every few months I travel to Hawera for a week's break and I'm constantly seeing things that make me chuckle. I was drifting down the interminably long main street of a country town at 50kph. At this speed the journey seems to last forever. I noticed a man in his 20s dutifully mowing his front lawn. Hidden from his view, but obvious to everyone else, was his three-year-old son with a toy mower following his father's example exactly. Talk about learning by imitation. I filed that memory away. I don't think I would have noticed that before.
I reached the centre of town, the car perilously low on petrol, only to discover that the fuel pumps at the usual place had been ripped up. I drove round looking for pumps because I just had to have some gas. Then I saw it – cars everywhere from both directions. There must have been eight or ten cars where there was probably room for just one on each side. What a shemozzle! All of them, I guess, like me, had to get gas and there seemed to be only one outlet. Once I would have had a fit over the shortage of gas, now I could laugh to myself and pinch and poke my car slowly towards the pump.
But the real reason for the trip to Hawera – the (de la Salle) Brothers were leaving Francis Douglas College in New Plymouth and this was to be their last farewell. I attended the Mass and farewell do at Stratford. There was more to the speeches than a simple goodbye. For example, the Brothers are picking up the challenge of the new church in Africa. Br Bill Firman was a principal of the college at one time. He is now headed to South Sudan ready to begin a teachers' training college with other men and women religious. The story of his entry into that country is spell-binding but he's made it and the teacher trainees are beginning to show up from the war-torn remnants of society.
Another past principal of the college is Br Peter Bray. He was in charge of the Wellington Catholic Education Centre for some time. He put up his hand for the job of vice-chancellor of the Brothers' University in Bethlehem. It is for the most part Muslim and is behind the wall that the Israelis have erected. Again, Br Peter is doing an amazing job and using every bit of his experience.
Now that lay teachers have taken over running the college, the Brothers are heading in these new directions. I rejoice in all their new moves and I know the college is in excellent hands.