Cardinal Tom Williams told the congregation celebrating with him on December 18 that rather than dare to tell God at Heaven's gate, 'If you examine my credentials you will see that they are all in order' he would simply say 'God, be merciful to me, a sinner.'
He needed to confess that he was not worthy of all the blessings 'lavished on me every hour and every day of the past five decades'.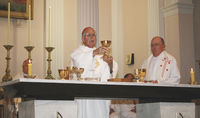 Thanksgiving was also important for this jubilee celebration.
'In the life of every priest, as in my own life, reasons for thanksgiving are beyond count much less re-counting' but are recalled 'vividly, humbly and gratefully'.
Cardinal Tom thanked God for those earlier people who had formed him and for those 'who have been my partners in ministry'.
He thanked particularly the bishops he served under in his priesthood: Archbishop John Charles McQuaid in Dublin, Cardinals Peter McKeefry and Reginald Delargey in Wellington, and Cardinal Pio Taofinu'u in Samoa, the bishops he served with 'and on whom I depended greatly': Auxiliary Bishop Owen Snedden, Archbishop John Dew as well as the priests, diocesan and religious in the Archdiocese of Wellington.
'Their leadership has been and continues to be absolutely vital in the Church's task of celebrating and serving.'
Cardinal Tom also thanked the laymen and women, Sisters and Brothers of the archdiocese' 47 parishes.
'You are a wonderful part of our heritage.'
He also paid tribute to the 'little people' whose 'true greatness (is) known to few but certainly to God'.
'To know them, to share diocesan and parish community with them, is a precious grace.'
Cardinal Tom finished with St Paul's words to the Philippians, 'I have not yet reached perfection, but I press on, hoping to take hold of that for which Christ once took hold of me.
Archbishop John Dew, said in his homily on December 18 that he could 'almost guarantee' that Cardinal Tom would respond to congratulations on 50 years of priesthood with: 'I haven't had to do much; I have just had to keep breathing'.
'One of St Jean Vianney's sayings was, "The priest is not a priest for himself, he is a priest for others".
'Priests have the unbelievable blessing of being able to help others – as we all are able to help others. 'Tonight we give thanks that priests and a particular priest assists the People of God in a different way to discover and give thanks for the gift of God with us.'
Cardinal Tom has reminded us often that 'we are called to live the celebration of God's justice and peace and to share that peace and God's goodness in very concrete ways with the poor, the afflicted, the disadvantaged so that they too will feel the presence of Emmanuel and know the peace, goodness and communion God wills for us all'.
See also Cardinal marks 30 years a bishop, 50 a priest www.welcom.org.nz/?sid=1201