Palmerston North
Fr Kevin Neal
11 November 2011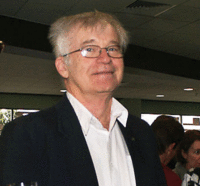 I have never been much for joining in rugby discussions or for watching matches on TV with the volume turned right up. I prefer to watch them with volume set low and to follow the match as I would a lesson. I think I've seen too much rugby for anything else.
For more than 50 years I have been so lucky with all the sport I've taken part in – watching, playing, coaching or driving buses to rugby venues.
Regardless of the sport, I like my own piece of turf at the ground where I can watch the game in silence. This probably comes from spending too much time with coach Leo Walsh, who always watched from well away from the crowd, weighing up every move. He would arrive at the field, spend some time mingling and then quietly move off to spend the rest of the game by himself.
Another coach I admired was Brendon O'Neill who would do the same thing – spend a little time with the team and supporters then move off by himself. I still like my own thoughts when I'm watching sport.
As we grow older we tend to spend more time by ourselves just watching and planning things in our minds, even when we can't do them anymore.
But young people at a match tend to stay together and kick up a rumpus for all to hear. I've noticed too that there's not much difference between men and women whatever the sport or the season. I say this because when I was in England I watched many games of soccer. Now that is a game worth watching but it's a bit hard finding a place by yourself to watch it!
The Rugby World Cup is behind us now but did you see the Georgian rugby team? The TV cameras eavesdropped on their game preparation and they were praying as a team. Prayer won't make them win or lose but it reminds them that they are together as one. And then there was their wonderful sign of the cross. It's a bit different from ours but it's still the sign of the cross.
Now we are into summer sport – just as much a celebration of freedom as what is played in winter, even if it's only for an hour or two. Long may it last.