Parishes
Irene Mackle
9 October 2009
New Zealand's oldest working Catholic church, St Mary's, Otaki, is to be feted on Saturday October 10 with a series of parties to mark the 150 years since its opening, coinciding with the 200th birthday of Phillipe Viard sm, the first Catholic bishop of Wellington.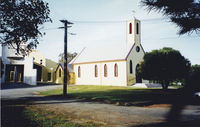 There will be a powhiri on the Marae o Hine, followed by Mass and lunch. The festivities continue through the afternoon with a short history, entertainment, poroporoaki to Archbishop John Dew, a vigil Mass and, in the evening, a 1960s style dance in Hadfield Hall (tickets $5 from Smiths Bookshop).
The church was originally named Our Lady of Victories after the church in Fouvière from where the Marist missionaries left for Oceania. There is a wish to restore this name to distinguish it from a number of others in the area named St Mary's.
The church was begun in 1857 after the timber had been cut and dried some five years earlier. It was finished in 1859 then upgraded and the floor installed between 1885 and 1888. At this point many treasures including the prized brass sanctuary lamp were sent from France.
These were all restored in the late 1990s when the church was fully renovated. The renovation uncovered a number of exquisitely painted panels, including the floor in the sanctuary that had been painted in a floral pattern because the community could not afford to install carpet.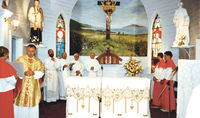 The most recent restoration was prompted by the burning down of a neighbouring historical church, Rangiatea, in the early 1990s. The Historic Places Trust offered to help restore St Mary's at the same time. At the trust's behest, the Lotteries Grants Board gave a generous sum for a full renovation.
Builders working on the renovation were surprised that so little of the original timber needed replacing. The interior was redecorated using the same pattern as Fr Braxemeir used in 1888 when he worked on it during his break from teaching at St Patrick's College in Wellington.
These days the church which seats 80 to 100, is used for such special occasions as weddings and baptisms.