Palmerston North
Diane Bourke
6 November 2012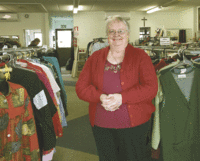 A joyful week of celebration for the feast day of St Vincent de Paul (September 27) began on the Friday before with a beautiful School Assembly.President, Annette Orchard and Diane Bourke were delighted to be invited because the total focus was on the life of St Vincent de Paul and his great gift of loving and caring for people.
What a surprise Annette and Diane received when they were called up to receive a great variety of toys, books and clothing to be sold at the shop. This was the generous gesture the Junior School pupils.
The whole school carried on with a fun 'Whacky Hair Day' and made a monetary contribution raising $306 which was presented to the shop for the work of the society.
The parish also celebrated in the Sunday Mass. The life and good works of society founder Frederic Ozanam were reflected on in the homily. Everyone made a great effort to collect items for the local Food Bank and these were included in the gifts for the Mass.
Every celebration needs a cup of tea and after Mass members of the society hosted parishioners to a lovely morning tea.
In the last week of term, the senior students were rostered to work in the shop and help with the day-to-day tasks. Cath Wynne who works on a Thursday said 'the students worked very well and were a pleasure to have in the shop'.
The students learned about the importance of service, hospitality, cheerfulness and friendliness towards clients.
Image: Cath Wynne smiling with pleasure at fresh donations for the Vinnies shop.