Cecily McNeill
6 April 2011
Three staff from Catholic Social Services in Wellington who spent a week helping Christchurch people back on their feet after the February 22 quake, say they feel privileged to have seen firsthand the way people have helped each other.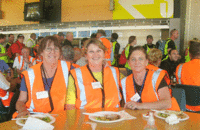 Social worker Trish Heward and counsellors Gail Teale and Tracey Burge were part of a 'flying squad' formed by the Ministry of Social Development emergency response team and went to where help was needed.
They said with the ongoing aftershocks, people were suffering huge emotional trauma and fear that there would be another big shake which would be worse.
On top of the usual issues people deal with day-to-day, many were still addressing the uncertainty surrounding their homes and workplaces created by the September 4 quake when the February 22 quake hit.
'We took a triage approach and applied a sort of psychological first aid. This involved allowing people to begin to talk about and process their experiences, to normalise their responses to what had happened, and to help them cope with the physical and psychological symptoms associated with trauma,' said Gail.
All agreed that seeing people a week after the quake meant that they were still very much in survival mode so understanding their most basic needs of food, water, shelter and safety was important.
'We quickly learned to ask about whether people had basic services and to check out if they were sick or elderly with special needs or whether they had enough medication, as many didn't like to ask for help,' said Trish.
'I felt a sense of real privilege being there. We saw complete strangers helping each other and families and neighbours coming together and working out what each one needed. People were sharing food, water, cooking sausages on the barbecue and sharing them with neighbours in the street. It was just amazing.'
For Trish it was 'a very humbling experience because everyone had their own story. People were very appreciative.'
People respond in many different ways to stressful situations. There is no abnormal response to such a traumatic event.
'People will need ongoing support for a long time,' said Tracey. 'People will feel a great sense of sadness and loss – at times they may feel angry. Those who were more vulnerable before the quake are likely to experience an increased sense of vulnerability for a considerable time after the quake. However, as people continue to grieve, they will also gradually adapt and eventually rebuild their lives and their city.'
All said the experience would stay with them for a long time.
Image: Trish Heward, Gail Teale and Tracey Burge of Catholic Scial Services in Wellington having a tea break while helping out in post-quake Christchurch.