Chief Ombudsman Beverley Wakem left St Mary's College in 1961 believing that she could do anything and after applying for a cadetship with broadcasting she has never had to apply for another job. Throughout her career she has always been invited to interest herself in a wide variety of roles.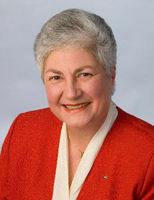 Beverley recalls with affection 'a most gifted' teacher at St Anthony's primary school in Seatoun who inspired her with an imaginative approach to learning and who encouraged an interest in music and theatre. Sr Mary Liguori (Mary McRae), a colourful and vibrant inspiration, 'won for her girls the St Mary's College scholarship seven years on the trot … and I was one of the lucky recipients'.
At St Mary's Beverley came to appreciate her teachers in the A stream who were all, in their way, singular. The school gave her 'a brilliant education, very well-rounded, balanced in every way'.
'We emerged from that experience very much more prepared for university than many of our contemporaries and thinking that the world was our oyster and there really wasn't anything we couldn't do. I just had to find the right niche for me.
Beverley joined the drama club and gained her FTCL diploma in speech and drama through which the later Chief Executive of Radio New Zealand was introduced to broadcasting when Fr Bernard Hehir invited her to do some readings on his Sunday afternoon children's programme on 2YA. She sang with Sr Mary Winefride's schola when it premiered a work by Edwin Carr and performed Menotti's one-act opera, Amahl and the Night Visitors in the Wellington Town Hall. Later Maxwell Fernie conducted the schola in a recording of Benjamin Britten's A Ceremony of Carols in the old broadcasting studios on the Terrace.
Now newly confirmed in her second term of office, Beverley Wakem considers a career which has been rich and varied.
After some tertiary study she applied for a cadet training scheme with the NZBC (broadcasting) and, over the next 27 years, worked her way up the radio ladder through controller of programmes to director-general and chief executive in the seven years to 1991. Beverley was awarded the CBE in the Queen's Birthday Honours in 1990 – one of the many awards and honours that have come her way.
Leaving radio, Beverley was offered a position with Fletcher Challenge's agricultural company, Wrightsons, in corporate communications, later acquiring the human resources role as well.
Six years later, Beverley found herself in the Higher Salaries Commission following a chance meeting on Lambton Quay. In addition she held a number of directorships and trustee roles. Six years later and looking for a change Beverley found herself in the ombudsman's office and just a couple of years later, as chief ombudsman. Here she drew on her experience with Radio New Zealand on the other side of the table. This role brings together all the experiences I've had both public and private. I know how the world works now; I certainly know how the Public Service works.'
Taking as passionate yet intellectual an approach to this position as she has throughout her career, Beverley gives as an example of the positive aspect of the workings of the Ombudsman's office, a complaint about Capital and Coast District Health Board in Wellington. Arising out of the Ombudsman's recommendations, talks with the DHB's quality improvement committee led to agreement on a framework for disclosure that would protect the patient, without undermining the clinicians' ability to do their job and their willingness to talk about mistakes that were made and, more importantly, to improve professional practice.
'Now we have routine disclosure annually of serious and sentinel events in hospital. I think that was a marvellous response and a great outcome in terms of public interest.'
From St Mary's to Fulbright scholar in not many years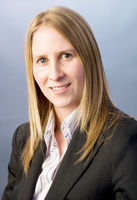 Another former student at St Mary's College, Jane Standage, has just taken up a Fulbright scholarship in New York to study US law, particularly antitrust and water regulation. She too credits encouraging and skilled teachers for the confidence in her own abilities they instilled in her.
At St Mary's 1996-2000, Jane was involved in debating and music (violin) with a smattering of sport on the side.
'I would encourage all students to get involved in a couple of extracurricular activities. These teach you other skills that are acutely important and are often not developed in normal academic pursuits. But performance arts and sports allow you to develop confidence in yourself and to train your brain in a wholly different way giving an added dimension to your life.'
Jane has always wanted to pursue a career in law and, as judge's clerk for Justice Susan Glazebrook in the NZ Court of Appeal, she worked with 'some of the country's top legal minds'.
As well as giving her trust in her own abilities, Jane says St Mary's gave a strong sense of right and wrong which assists in traversing the grey areas of the law.
'A school whose motto is mercy and wisdom seems an ideal starting point for the education of any lawyer. An understanding of people is also essential to being a good lawyer and I think being part of the diverse St Mary's commmunity allowed me to broaden my understanding of others.'

Teacher support a big plus
Meanwhile, a passion for workers' rights informed by Catholic social teaching and for music will influence Year 13 student Kaisa Beech's choice of career when she leaves St Mary's College at the end of the year.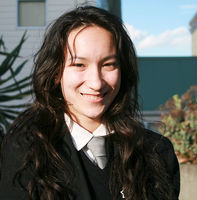 Kaisa speaks warmly of her experience at college particularly through her music classes and enterprises. Teachers have been most supportive and encouraging and Mercy Day with its forum for performing has been an annual highlight.
'I was in a band outside school and in the school chamber music group playing guitar, in the choir, in a jazz combo for a while and now in the school guitar chamber music group.
Kaisa enjoys composing in many different idioms – jazz, contemporary and instrumental folk music influenced by Jewish and the celtic harmonies of the Irish culture − and hopes to study composition or ethnomusicology next year.
She has also developed a relationship with her RE teacher Judy Houlihan who has encouraged her to explore the 'see, judge, act' approach to workers' rights. 'She's been really cool'. Kaisa was hoping she could establish a Young Christian Workers group at the school with Ms Houlihan's encouragement to look at Catholic social teaching in action.
She is passionate about workers' rights and the power of the unions to support workers where their rights are not being considered.
Kaisa says her experience of workplaces which have been either most supportive or not at all considerate of her rights has given her an insight into the need for worker representation in trade unions. She learned first-hand the benefits of union protection through an incident in one workplace and she hopes to be able to find a leadership role in a union at some stage in her career.
Her teachers have encouraged Kaisa to take up leadership positions in the past year and she has worked as a class leader with Year 9 students.
'I've learned a lot from that … I go to their form classes on Monday mornings and check their homework and make sure they're wearing their uniform properly.' She has developed a close relationship with some of the younger girls in the class, particularly those who play music.
She has also taken on some leading roles in the music department.
Kaisa feels she is not really a natural leader but finds herself out front in areas she is passionate about, like music and trade unions where people often don't know what to do.
'It seems really important to me because everyone's a worker at some point and unions can unite workers.'
On Wednesday September 8, St Mary's celebrated 160 years of education on the site.