NEWS
Choi Jong-hyeok
6 November 2012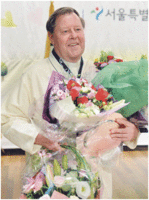 New Zealand Columban Fr Bob Brennan has been awarded the City of Seoul's Grand Prize for Social Welfare. The Mayor of Seoul, Park Won Soon, made the award at a public ceremony on September 4.
In his address of congratulations the mayor said, 'This blue-eyed foreigner is a model of selfless dedication and sacrifice on behalf of the poorest members of our city.
Formerly of Auckland, Fr Brennan went to Korea in 1966 and spent 12 years in the poor coal mining mountain area of Kang Won Province. In 1980 he moved to Seoul where he has since been involved in housing rights, fighting for the people being dispossessed of their homes in the name of redevelopment.
It was in recognition of his 32-year fight for and on behalf of evictees in the city of Seoul that he was awarded this year's Grand Prize for Social Welfare.
Fr Brennan said meeting Bishop Ji Hak-soon, known for his pro-democracy activities in the 1970s when the country was ruled by Park Chung Hee, led him to community service work.
'It was Bishop Ji who sent me to a coal mining village in Gangwon to take care of those in need,' the 71-year-old priest said. 'After watching him deliver a Mass that addressed social and political issues, I realised Church must exist for people.
'I, myself, have been evicted from my house three times. And I will go anywhere if someone without a home needs my help,' he said.
For the past eight years Fr Brennan has run the Samyang Resident Solidarity which works with those looking for jobs and also provides small loans.
This article was first published in The Far East.