Sr Catherine Hannan
2 August 2012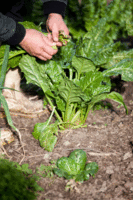 A glass house for the Compassion Centre Soup Kitchen is the latest addition to the Owhiro Bay Community Garden. Guests of the soup kitchen can now raise seedlings for their garden plot, with the help of staff members Sr Christina Williams and Lorraine Irwin.
Guests were last year introduced to the garden by its coordinator, Robert Te Whare, and since that time Robert has driven a vanload of people from the soup kitchen to the garden every Monday. They often return with regular harvests of fresh vegetables for the evening meal.
Not only has everyone gained the benefit of enjoying fresh vegetables but the new gardeners have gained self-esteem through learning new skills. Their pride in their project is tangible.
The Owhiro Bay Community Garden is on a large tract of land unsuitable for building and anyone from the local area is welcome to apply for a garden plot.
People on Community Service in the Corrections Department work there, and Robert has tapped into their skills turning land which was overgrown with gorse and blackberry into a home to garden plots, an orchard, a worm farm and planned areas for wetland and medicinal native plants.
A dam and a water wheel have been built in the Owhiro Stream, which runs through the property and now is the source of water for the garden.
The gardens have become a centre for the community who now gather there for local events, and the park-like surroundings, complete with ducks, eels and frogs, offer a great environment for kids.
On June 20, Robert spoke about the Owhiro Bay Community Garden, at St Joseph's Church, Mt Victoria, as part of the Social Justice Winter Dialogue Series 2012 – Food; food is the theme selected by Caritas for Social Justice Week in September.
Image: Working in the Owhiro community garden. Photo Adrian Heke