The ethnic and cultural composition of New Zealand society is changing, and with it the make-up of Catholic parishes, schools and communities. Like all changes, this brings both challenges and opportunities.
Immigrants are bringing new forms of enthusiasm and commitment to our expressions of faith. Many Catholic parishes and schools are being enlivened as a result. New languages, hymns, prayers and forms of religious devotion are appearing on our spiritual landscape.
Many in Catholic communities welcome this increased diversity. But for many others this is outside their established comfort zones and they feel anxious about the impact of change.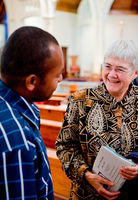 The challenges include ensuring that, amid this new diversity, we, as a church community, do not lose sight of the indigenous language and culture of Māori Catholics.
We also need to ensure that newcomers are welcomed and included in all aspects of parish life, including parish committees and decision-making processes. Perhaps for the first time in their lives, some parishioners are having to adjust to being ministered to by priests and religious from cultural and ethnic backgrounds different from their own.
Not all Catholic communities are affected in the same way or at the same pace. Naturally, the north of New Zealand, where immigration is highest, is experiencing these changes more quickly than southern parts of the country. But it is an opportunity and a challenge for the whole church.
The New Zealand Catholic Bishops wish to ensure that parish councils and communities are well equipped to respond to the increased diversity of our communities. They have prepared formation material which has been sent to all parish councils. Caritas has also taken the theme of Creating inclusive and connected communities for the focus of Social Justice Week 2010, September 12 – 18.