Social Justice Week September 12, was marked at St Mary's Church, Palmerston North, with people from the faith community wearing traditional dress and expressing the various elements of their culture in the liturgy.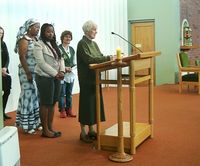 Six were invited to say the Prayers of the Faithful in their own language, with a translation in English on the overhead projector. Languages included Gaelic, Tongan, Maori, Rwandan, English, and Zambian. Fr Marcus Francis reflected in his homily on the dignity of each person and that inclusion is important for everyone.
The Filipino community played traditional string instruments and the choir sang the moving traditional Māori hymn 'E Te Ariki' during Communion. Antoinette from Rwanda, spoke about her experience − what it was like for her and what was helpful, as a refugee coming to New Zealand, which was a totally foreign culture to her. She thanked parishioners like Florence who had gone to her home weekly to show her how to cook 'Kiwi style'. She spoke of how wonderful it was when parishioners greeted her by name, not seeing her as different but as a friend. After Mass we enjoyed a cup of tea and cake together, asking each other where we were from, celebrating our differences.
Jo O'Halloran is social justice animator at St Mary's, Palmerston North