Schools
Marg Campbell-McCauley
2 December 2012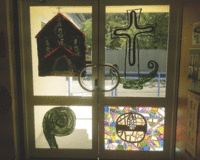 As part of our celebration of the Year of Faith we have painted the doors at the entrance to Sacred Heart School with symbols of faith.
The designs mark the fact that by entering our school, we are entering a place of faith where our hearts are open to God.
One of the Year 8 students Katrina Ditablan designed the window art – our parish church – Sacred Heart Church (built in 1886) in the top left panel, the Aotearoa Mercy Cross to signify our founding Order, the Sisters of Mercy, in the right corner, the koru to show new life from our faith in the lower left panel and the hand of God reaching into our lives and into the world, in the lower right panel.
Once sketched in, other students helped Katrina to paint the windows in the style of stained glass windows in a church.
We held a liturgy on November 9 to mark the Year of Faith and to celebrate the work of these talented and inspired students.