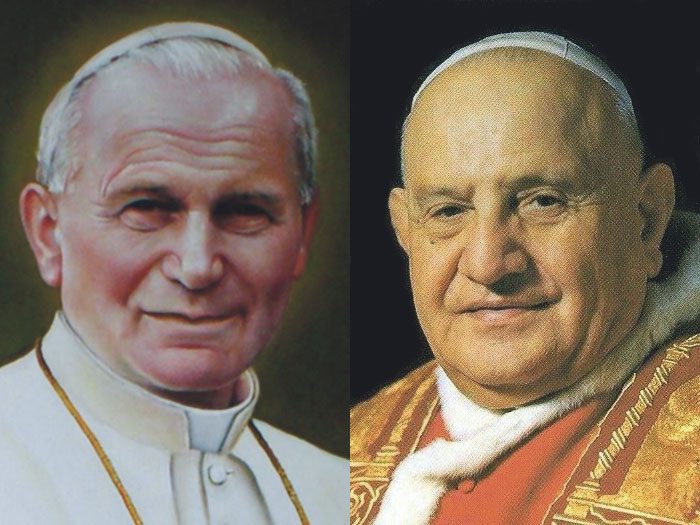 May 2014
Opinion
Fr James Lyons
On 27 April, in the brightness of Easter joy and before one of the largest crowds to gather in St Peter's Square, two new saints were added to the universal Catholic calendar, both former Bishops of Rome.
One was pope for less than five years, the other 27 years – the longest papacy ever. Pope John XXIII (1958-63) initiated and opened the Second Vatican Council; Pope John Paul II (1978-2005) an inspirational figure on the world stage, was influential in the collapse of soviet communism.
Angelo Giuseppe Roncalli (1811-1963 John XXIII) and Karol Wojtyla (1920-2005 John Paul II) spanned nearly 200 years of the church's life and contributed enormously to its legacy of social teaching.
Their differing cultural backgrounds (Italian and Polish) are reflected in their complementary styles of leadership and writings – the one setting free the vision for a church more open to the world, the other travelling the world and bringing renewal to faith and the message of hope and possibility to many repressed and voiceless.
John gave birth to a council that set a course for unprecedented change in the way the church viewed herself and took a new and positive approach to religious freedom, ecumenism and human dignity; John Paul was the first pope to pray in a synagogue, to enter a mosque in an Islamic country and to preside over a meeting of the leaders of all the world religions.
John Paul II was a prolific writer in theology and spirituality; John XXIII did not have the luxury of time, but is hailed for what is regarded as one of the best papal documents, Pacem in Terris – Peace on Earth (1963) – a beautiful and powerful exposition of human rights and responsibilities.
He is remembered for saying, 'We are all made in the image of God, and thus, we are all Godly alike'.
Surviving an assassination attempt in 1981, John Paul was courageous in his defence of life, though extremely cautious in his support for the evolving consequences of the Vatican Council.
While there has been some criticism of the haste in which John Paul II's cause for canonisation was advanced, there is popular acclaim for both these faithful witnesses and servants of Jesus Christ.
Their canonisation provides role models for living gospel values in a secular society. They have championed spiritual realities in a suspicious, cynical world, dismissive of whatever cannot be measured and quantified. They are shining lights in an age too easily darkened by fear and troubled by disbelief.
They are saints for our time, linking yesterday with today and strengthening our hope for tomorrow.
St John and St John Paul – pray for us.