Palmerston North
Pat Julian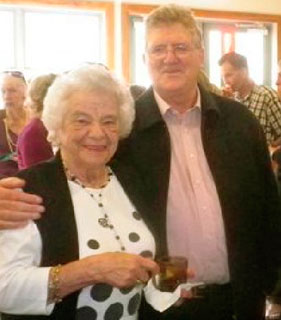 After three and a half years as parish priest of Sacred Heart Parish Inglewood, Fr Tom Lawn reluctantly said 'goodbye' in April to a congregation who were equally sorry to see him go.
The congregation in Inglewood, augmented by parishioners from Waitara also under the ambit of Inglewood, had gathered on Sunday 28 April to farewell a much loved figure. North Taranaki's loss is South Taranaki's gain as Fr Tom moves to Hawera.
During Father Tom's tenure, he has overseen the remodeling and extensions to Sacred Heart Church.
While the building was going on, he was often spied on a weekly tour of inspection with project convener and parish Council chairman, Alan Gibbins.
Tom, as he is affectionately known to the majority of parishioners, has encouraged young families to have their children baptised in the Church and, over the last couple of years, we have seen a marked increase in the number of baptisms in the church.
So it was fitting that Fr Tom's farewell Mass should include possibly his last baptismal ceremony in Inglewood.
At the end of Mass, presentations to Fr Tom were made by the parish council, St Patrick's school and St Josephs Parish, New Plymouth, which oversees the wider North Taranaki Catholic Community.
Mass was followed by a delicious finger food lunch, shared with the Waitara congregation, after which Fr Tom quietly slipped away to, guess what?
Yes, another baptism ceremony – his fifth for the weekend!