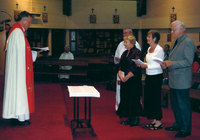 To follow Jesus in humbling herself as a servant in order to make herself available to the sick and suffering was the exhortation from Archbishop John Dew as he welcomed Wellington's first lay hospital chaplain to her new ministry at the end of March.
Launch Out graduate Margaret Luping was commissioned amid family, friends and colleagues in St Anne's Church, Newtown, to work as part of the chaplaincy team at Wellington Hospital.
The ceremony reflected the people and environment within which Margaret ministers. Parish priest, Fr Gerard Burns, welcomed the congregation which included her husband, three daughters and grandchildren, some of whom came from overseas.
Also supporting Margaret was a large number of hospital staff, assistant chaplains, people from other churches, members of the Catholic Education Centre and colleagues from the Launch Out formation programme.
Margaret's parish priest, Fr James Lyons of Lower Hutt, read the gospel.
As part of the ceremony Fr Ray Stachurski from the Chaplaincy team, Joan McFetridge of Launch Out and the national executive director of the Interchurch Council for Hospital Chaplaincy, Ron Malpass, presented Margaret to the archbishop.
In his commissioning rite, Archbishop John reminded Margaret that her call is to be with the sick, their relatives and those who care for them. She is to minister to their spiritual needs, their loneliness, their fears and their struggles and to be a witness to the love and concern of Jesus.
The archbishop then blessed Margaret and prayed that God's grace would enlighten and guide her in this ministry.
Archbishop John based his homily on the Last Supper when 'Jesus removed his outer garment and, taking a towel, wrapped it around his waist. He then poured water into a basin and began to wash the disciples' feet and wipe them with the towel he was wearing.'
He spoke of how Jesus reached out and touched so many people in Mark's gospel account of his ministry. Margaret is to be like Jesus and touch others spiritually and psychologically as she prays with them, encourages them, supports them, cares for them and blesses them.
Archbishop John also assured Margaret of the prayerful support of the archdiocese.
In the commissioning rite Margaret was given a cross as a symbol of her baptism and of God's saving love. A procession of symbols followed Margaret's blessing. This procession reflected the ecumenical environment within which Margaret works, and the team support and commitment of all of the churches involved.
Rev David Tannock presented a candle and prayed that the flame of faith be kept alive in Margaret's heart. Fr Gerard presented the pyx and prayed that Margaret continue to give life to the sick, through the Eucharist.
Margaret also received the pager, with the reminder that she is to respond sensitively and willingly to the needs of the patients and staff, the ID badge which identifies her as one of the healing team members of the hospital, and the Interchurch Council Hospital Chaplaincy badge.