Features
Michele Lafferty
1 February 2013
Where are the young people in the church?
A gathering in Budapest last September of 12,500 of the world's under 30-year-olds for the Focolare Movement's Genfest may give some inspiration.
Lia Van den Kerkhof, who is 21, says the Genfest was as if God was paying her back for anything she had ever done for God. 'The unity of other young people helped me to make this journey and gave me strength to believe that unity is possible.'
Focolare is a Catholic organisation that focuses on family and young people in enhancing their passion for the faith. Jesus is clearly in their midst.
As you get to know adherants of Focolare, you begin to see that are a little different. For one thing, there are a lot of young families along with the older people at the meetings. Parents are encouraged to take their children to meetings so that they have the opportunity to learn at their own level – no babysitter problems when you belong to the Focolare.
Vicky Wall, 26, remembers the first time she attended the Focolare.
'I felt straight away that I could be myself, but at the same time they expected the very best of me. Young people today are looking to be challenged; they want to live for something radical and true and this is what attracted me. Now I want to give my life as a focolarina (consecrated member).'
Focolare members are always happy, always welcoming and never forcing anything on you. Wherever they are there is joy and love even when they are going through difficult times, because they are not alone.
As a young Catholic girl after the horrors of the Second World War, Focolare founder Chiara Lubich decided with her friends to do something to unify humankind.
They chose as their inspiration the biblical phrase 'that all may be One' and went about achieving it.
Chiara and her companions lived the values they believed in and were quickly joined by others who also saw that those values were what mattered.
Focolare's ideal of unity brings together people of all faiths, consecrated and not, women and men, married and unmarried and it is the first Catholic organisation to admit members of other Christian churches and faiths. James who is non-Christian, says through the open promotion of unity first, 'I have gained so many friends and so much understanding of others and especially of other cultures'.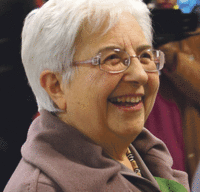 Focolare's president Maria 'Emmaus' Voce is in Wellington on 3 February for two meetings – an open meeting with Focolare members in this country in the afternoon 3 to 4.30pm and, in the evening, 'My Life, a Calling' an open discussion with young people from 5.30pm to 7pm.
Both meetings are at St Mary's College, Thorndon.