Palmerston North
Freda McGurk
6 April 2011
Father Anthony Ford settled quickly into St Joseph's Parish and Hoani Papita, Hawera, when he arrived in 2004. He appeared to enjoy the challenge of being our parish priest.
For a time, when the Patea/Waverley parish was without a priest, he also ministered to them. A further change occurred when the Manaia parish amalgamated with St Joseph's.
Change itself, did not perturb him and he thrived on doing the best he could for all communities and everyone appreciated those efforts.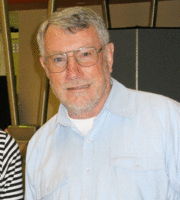 Fr Anthony was firstly a priest who loved the church and all that it represented.
Coming to priesthood later in life, he obviously loved his priestly duties and had great regard for all aspects of liturgy and its associated rituals. Doing things right was important to him and he was meticulous in all that he did.
He wished for people to experience their Sunday Mass as a highlight of the week and be fully absorbed in the celebration.
He loved to sing and frequently sang during the Mass; a baptism would not be complete without some singing. Music and song were so much part of celebrating liturgy.
Much of Fr Anthony's life was involved in education. He enjoyed the presbytery being so close to the school. Ever the teacher, he loved the sound of the children at play.
Fr Anthony was a hospitable man and a good host to visiting priests. Some had trained at the seminary with him and special bonds were formed from that time.
He also enjoyed being invited into parishioners' homes. The staff in the parish office found him easy to work with, open to discussion and new ideas. A generous man, he was always ready to share his many talents in service. Fr Anthony encouraged people to take time out of a busy day to spend with God and perhaps a cup of tea.
So it was a tremendous shock at the end of last year when Fr Anthony needed major surgery for a brain tumour. This bought him time but not a cure. For much of the last few months of his life at Mission Rest Home in New Plymouth he was mobile and able to preside at Mass. He could celebrate his priesthood which was a comfort and strength to him and it was a blessing for rest home residents who were able to attend.
During his time in Hawera, Fr Anthony made many good friends who continued to support him when he was in the rest home. He valued those visits for the friendship and the link to the parish.
His philosophy was, 'What will be, will be'. He trusted that he was firmly in God's hands.
We of the Hawera parish are grateful for the time he spent with us.
May he be forever at peace with the God he loved and served so faithfully.