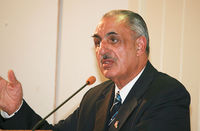 A Palestinian leader from Gaza has appealed to New Zealanders who are 'people of conscience' to ask the government to use all available channels to see his people 'set free from our oppression'.
Constantine Dabbagh told a Wellington audience on August 12 that the Palestinians in Gaza are a peace-loving people who are living in a huge prison, in miserable conditions with only six hours of electricity a day.
Children go to school for up to three hours a day and many are lucky if they can write their names when they leave.
Constantine says health services are provided free of charge but are struggling to keep up with demand. Three family health centres serve around 150-thousand people.
A Christian Palestinian born in Jerusalem in 1938, Constantine fled Haifa with his family as refugees to the Gaza Strip when he was a child. He now works as executive secretary, of the Department of Service to Palestinian Refugees, Middle East Council of Churches.
He directs the provision of healthcare, education and community services which care for the predominantly Muslim population of Gaza. In particular, the services focus on mothers and babies, vocational education and the provision of psychosocial health services to an increasingly traumatised population.
During the Israeli Defence Forces action in Gaza in January last year, an Israeli rocket destroyed the major health clinic and central office of the Middle Eastern Council of Churches which remain in ruins as a direct result of the blockade of Gaza. No building materials are allowed to enter, and the reuse of rubble is the only source for reconstruction. Israel has rejected the offer of a volunteer Australian work team to rebuild the clinic and denied the necessary entry visas.
Constantine says under the Israeli blockade, only wheat flour and dairy milk are allowed in. 'This has caused a high rate of unemployment – more than 60 percent. Poverty has risen to over 80 percent. People are dependent on humanitarian aid.'
Under the new conditions of the siege and with the high unemployment rate, development cannot continue.
'We need to see how we can promote the right of the Palestinians to peace and justice. We want peace – a just peace – and self-determination.'
Constantine says the Palestinians want to see established a Palestinian state within borders that were agreed in 1967. But after 17 years of negotiation nothing has been achieved.
'We don't want to wait until all the land has been expropriated.'
He wonders why it has been possible through international pressure to abolish the apartheid regime in South Africa but not to achieve a peaceful settlement between Israel and the Palestinians.
'We want to be good neighbours to Israel, to complement each other. We don't want to continue under this state of violence. It doesn't help anyone.'
Almost half the population of Gaza is under 16 years.
'We want to see that the children of the country are safe. They are the treasure of the nations. They should be safe but they are being killed psychologically. Only six hours of electricity a day.
'We don't want to call our neighbour 'enemy' forever.'