A competition between the sexes as to who could compose and sing the most amazing grace became a feature of a Passionist youth camp in the Pohangina Valley at the start of July.
Rangi Woods Camp was wet and muddy when 29 young people arrived there for the 2010 Passionist Youth Retreat, but Samoan-influenced song and dance with three-part harmonies made the opening night warm and welcoming and started nightly entertainment.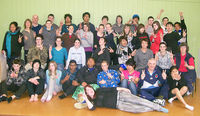 Group leaders Tori Prendergast, Kieran Uddy, Tim Eder, Farani Penitito, Rose Comber and Paul Patch (Darbyshire) worked with Passionist Fr Brian Trayner to lead the retreatants in self- and global reflection and line dancing. Meanwhile Joan, Norma and Vanessa worked in the kitchen to ensure they were all well fed.
After four days (and one night with little sleep) the retreatants left tired and weary but not too weary to request another retreat next year. Annie says:
My experience of the Passionist Youth Retreat was one I won't forget. I absolutely loved it. Because I arrived a couple of hours late, I was a bit worried about being left on my own. But the atmosphere was so friendly and welcoming that within 10 minutes I was learning everybody's name and making friends. It was so awesome to make such great friends who have kept in contact since the camp. The camp leaders clearly enjoyed working with us − they were always laughing and making the camp fun. What we were taught was really helpful and enlightening. It was a relief to be able to talk comfortably about our feelings, thoughts and beliefs in our small group with like-minded people of around the same age − difficult to do at home or school. I can't wait to go again next year.
www.passionistfamily.org.nz