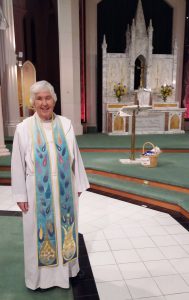 WelCom October 2017:
'If today you hear His voice, harden not your hearts' – Hebrews 3:15
At the Cathedral of the Holy Spirit Parish on Social Justice Sunday, 10 September, guest homilest Presbyterian Minister Rev Marg Shrader spoke about how God is at work in our lives.
Marg is no stranger to the parish. Together with Judith Ann O'Sullivan op and Yvonne Monroe rsj, she established The Stillpoint in her home as an oasis for people to discern the Spirit of God at work in their lives.
In her homily Marg talked about how hearing the voice of God changes one's life forever; about how she needed to hear God's voice in her life events: like God's call her to the Christian Conference in Hamilton where she met her husband, Warren, a Presbyterian minister; like raising his seven children whose mother had passed away in addition to raising their own son.
The heart of Marg's message was that God is calling us to embrace the 'outcast' just as Jesus embraced the Samaritan woman. For example: Pope Frances washing the feet of Muslim women in prison; people taking time to talk with a 'beggar' outside a supermarket hungry for conversation as much as for food; walls of prejudice melting in the eyes of 'good Presbyterians' as a Catholic nun Sr Judith Ann O'Sullivan op began to speak about prayer; or about those who cannot embrace the 'outcast', even if he is their own son, if the truth of his gender orientation is more than they can bear.
Marg emplored us to see the outcast in our society and to vote for policies this election year that ensure all women, men and children have a decent quality of life.
Rev Marg Shrader was ordained in the Presbyterian Church in 1979 and worked in joint ministry with her husband. In 1996, she became moderator of the Presbyterian Church of Aotearoa. In 2004, she moved to Waikanae and helped train spiritual directors with Spiritual Growth Ministries. She was also a Pastoral Minister at L'Arche Paraparaumu for three years.