Wellington
Eileen Brosnahan rsm
4 February 2013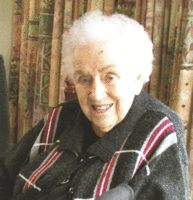 The chapel at Villa Joseph Upper Hutt overflowed on 28 December 2012 as religious, family, friends and former students gathered to celebrate the life and death of Sr Joan Kelly.
Born in Petone in 1921, Joan Mary Alice Kelly was the eldest child of Frances and Michael Kelly, inheriting a strong Catholic faith which led her to join the Sisters of Mercy at St Mary's Convent Wellington in 1945.
When Joan made her first Profession of Religious Vows in 1947 she took the name Sister Mary Berchmans and was affectionately known as Berchie. For most of her religious life, teaching was Joan's main apostolate.
She taught in St Patrick's Palmerston North and St Joseph's Blenheim and then in St Joseph's High School, Palmerston North, St Mary's College, Wellington and St Catherine's College, Kilbirnie.
She was a skilled commercial teacher with qualifications in shorthand, typewriting and economics plus the added advantage of ATCL in Speech and Senior Singing.
More importantly, wherever she taught, she was greatly loved. Her enthusiasm and kindness endeared her to staff and parents as well as to her pupils. A former pupil recently said of her, 'it made a real difference to my life to have Sister Berchmans as my teacher.'
She had the gift of holding a class spellbound as she related various colourful experiences of her life.
With her full-time teaching days completed, Joan helped in the Star of the Sea Retreat House Seatoun and became the coordinator of the Stellamaris Conference Centre in Seatoun 1983 to 1992.
When she retired from the Centre she described her next apostolate as a 'listening ear' at St Anthony's Seatoun and Good Neighbour Service (Age Concern). She was a caring, prayerful neighbour to so many.
As well, for several years she belonged to the Miramar Branch of Probus and for some time was their president.
Her positive attitude, courage and cheerfulness greatly impressed all those whom she met.
During Joan's last months at Aroha Care Centre as her health deteriorated her love for people showed in her reaching out to her carers, nurses and other residents – her door was always open and many called in for the kindly word to help them on their way.
She was cherished by her sister Pat, brother Bill and their families. Their homes were home for her where she enjoyed being part of the lives of her nieces, nephews, grandnieces and nephews, and cousins – she loved them all and proudly spoke of them from time to time.
As Sr Mary de Porres said in her eulogy, Joan took as her motto at the time of her religious profession, 'O Mary All that I Have Is Thine' and how well she lived it.