The Carmelite Third Order has established a discreet presence in Palmerston North at a three-day meeting in mid-January.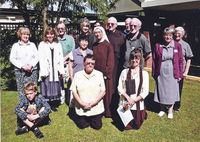 The provincial delegate from Melbourne, Fr James De Laurier, O Carm, gave talks on the Carmelite charism, Lectio Divina with Elijah and Mary and the Rule of St Albert which has been a guide to Carmelite commitment since the Middle Ages.
The gathering at the Cathedral of the Holy Spirit, Palmerston North, drew about 30 people from Central Hawke's Bay, Palmerston North, Feilding and Wellington.
The Carmelite friars had a parish in Auckland during the 1970s with a large Third Order membership. While in Palmerston North, Fr De Laurier met Kate Reynolds who has been a lay Carmelite for more than 40 years.
Teresa Walton (above right) was received into the Third Order at the 9am cathedral parish Mass on the Sunday of the meeting.
'Carmel is a school of divine love. For anyone seeking a profound intimacy with God, this is the mountain to climb; and on which a transformation takes place – Jesus Christ himself is the summit,' she said.
A Carmelite Spirituality Group is now being set up along with the initial development of a Third Order membership. The organisers thank Bishop Peter Cullinane for welcoming Fr De Laurier, and Fr Brian Walsh and St Patrick's Parish for hosting the event.