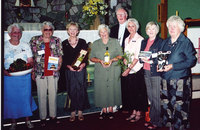 Members of the Palmerston North diocesan branch of the Catholic Women's League were encouraged to develop spiritual growth at its conference in Hastings on 10 and 11 April.
The national president, Tui Pasco, told the 76 members at St Peter Chanel Church of the importance of the league providing and encouraging scripture readings and discussion.
Bishop Owen Dolan and Sacred Heart parish priest, Fr John Dykes, celebrated the opening Mass with Bishop Owen stressing trust and hope in God. The offertory procession featured a symbol of each of the seven branches of the diocese.
Tui Pasco reported that mission giving for the past year was $220,850 which averaged $85 per member. The national mission officer, Maureen Kerr, is to travel to Samoa in July to gain a deeper insight into the state of the league's mission stations. Kath de Lautour had recently visited Tonga for the same reason.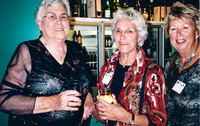 Some branches had had retreat days at the Southern Star Abbey, Kopua.
Pat O'Neil reported that the social concerns for the year had focused on home equity conversion schemes, the young offenders (serious crimes) bill and the Easter trading bill.
A panel chaired by Eileen von Dadelzen saw Mark Richards presenting his views on Church, Margie Oosthuizen talking about culture and Neil Swindells addressing the issue of identity.
Fr Dykes also offered a Mass of remembrance during the conference and Sr Mary McCann and her team arranged liturgies and reflections. Fr Paul Shannahan of the Pontifical Mission Societies thanked the CWL for its support of the St Peter Apostle fund. The conference ended with Sr John Bosco giving a summary and leading participants in a blessing with each other.
Pictures show top: Bishop Owen Dolan with representatives of the seven branches in the diocese each holding the symbol of their area presented to him during the Offertory. From left: Jo Brady, Hastings, fruit bowl of New Zealand; Barbara Grant, Wairoa, the lighthouse; Patricia Minehan, Lime Rock wine; Pam Myers, Napier, wine country; Agnes Diamond, Pahiatua, totara tree; Emily Rose, Mt Taranaki; Tess Johnston, Inglewood.
bottom: National social concerns officer, Pat O'Neil, Agnes Diamond of Pahiatua and Pat O'Connor from New Plymouth enjoying conviviality.