WelCom November 2017:
"The king will say, as often as you fed the hungry, gave water to the thirsty, visited the shut in, welcomed the stranger, you welcomed me!" – Matthew 25:34-36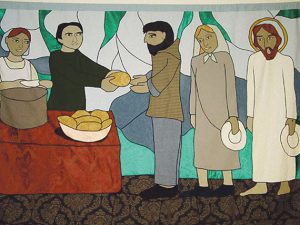 This November, Pope Francis has called for the First World Day of the Poor, on Sunday 19 November, and we will celebrate the feast of Christ our King, Sunday 26 November.
Note though, Frances has not called for a day of 'prayer for the poor'; in fact he hasn't asked us to limit our response to prayer; Francis has called for a 'Day of the Poor'.
The Lord we follow was poor, is poor. He, and we by becoming one in Christ by baptism, voluntarily became and become poor so the gifts that have been freely given to us may be shared with those who have nothing.
The great characteristic of the Church is that the needs of those who come to the Church are answered with the free gift of life in a community; and time and food according to the need of the one approaching the community. Through the ages men and women have taken a public vow of poverty so that they may feed the hungry, serve the sick, and educate those who have nothing. Part of the great gift was a free choice to become poor out of love so that our brothers and sisters might be served. This is a universal Christian call!
I share stories about two friends that I'm working with. One has just seen her rent go up $40 a fortnight so now half of her benefit pays for her rent and she is $100 short each fortnight to pay doctors' bills, pharmacy bills – oh and to eat. My second friend can't read. He keeps getting letters from social welfare and lawyers about entitlements and needs; all with the line 'if you do not return within five days we will…'. He is poor, he has nothing, he can't pay for a lawyer, and so I must ask, as my sons would say, 'What would Jesus do?'
Pope Francis has placed a call to each of us.
"It is my wish that, in the week preceding the World Day of the Poor, which falls this year on 19 November, Christian communities will make every effort to create moments of encounter and friendship, solidarity and concrete assistance. They can invite the poor and volunteers to take part together in the Eucharist on this Sunday, in such a way that there be an even more authentic celebration of the Solemnity of Our Lord Jesus Christ, Universal King, on the following Sunday."
Pope Francis' words are totally inspirational. You can find them online on the Vatican website at tinyurl.com/World-Day-Of-Poor or at www.pndiocese.org.nz; take them, pray them and then as a parish, 'act'. See the community around you, make a judgement of what to do, and act.
'For as often as you did it to one of these the least of your brothers and sisters, you did it to me.'
Mark Richards
Mark Richards is Pastoral Services Manager for the Diocese of Palmerston North.