WelCom July 2020:
Fr Ron Bennett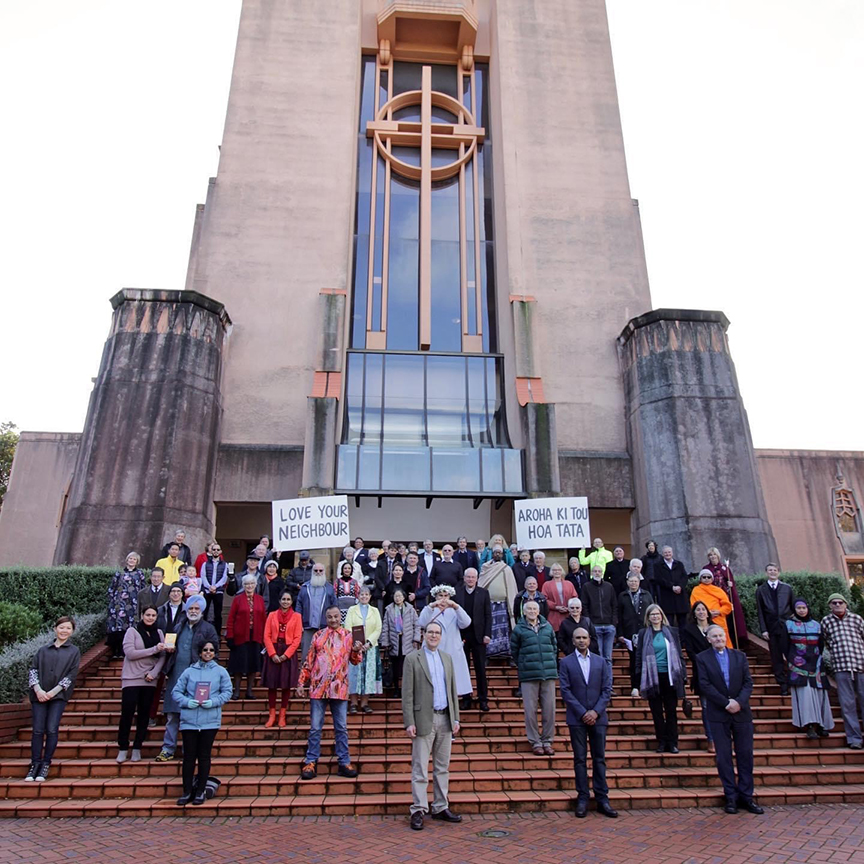 At midday on Sunday 7 June, over 80 leaders and members of faith groups in Wellington stood on the steps of St Paul's Anglican Cathedral, in an expression of inter-faith unity against racism.
This was in response to the tragic death of George Floyd at the hands of police in Minnesota and the subsequent large-scale protests that followed in the United States and around the world.
It was also in response to an action by President Donald Trump following the death of George Floyd. Trump had ordered the clearance of peaceful protestors in order to use a religious building (Washington DC's St John's Episcopal Church) to stage a photo opportunity holding a copy of the Bible, (which was upside down). Trump's posed photo took place a day after a fire was set in the basement of the historic church amid widespread protests over Floyd's death.
In Wellington, the purpose of our own photo-opportunity was to say that all faith communities have as a core-teaching 'Love thy neighbour' and that they stand in solidarity with those who are oppressed, particularly in terms of race.
We are conscious racism is not only an American issue. President Trudeau, when asked about the George Floyd killing, was silent for 21 seconds. Then followed a profound reflection. He expressed his horror about what had happened; then rather than criticise another country, he talked about his own country's imperfect response to racism.
So, we need to look no further than our own country. Any one of us may be outraged by such a public act of violence towards a citizen, but we are also conscious that for many of our brothers and sisters across ethnic backgrounds in Aotearoa New Zealand this stirs even deeper feelings. For many, this event echoes their own, or their families' experiences of prejudice, hatred and discrimination. Our own land has deep wounds of division, which require our ongoing prayer and active repentance.
Perhaps at an even deeper level, we need to reflect on our own personal responses in this area of prejudice, hatred and discrimination. From a Christian perspective, two scriptures come to mind.
"First remove the beam out of your own eye, and then you can see clearly to remove the speck out of your brother's eye."

Matthew 7:5
"Let he/she who is without sin, caste the first stone."

John 8:7
To change the world, we must first change ourselves.