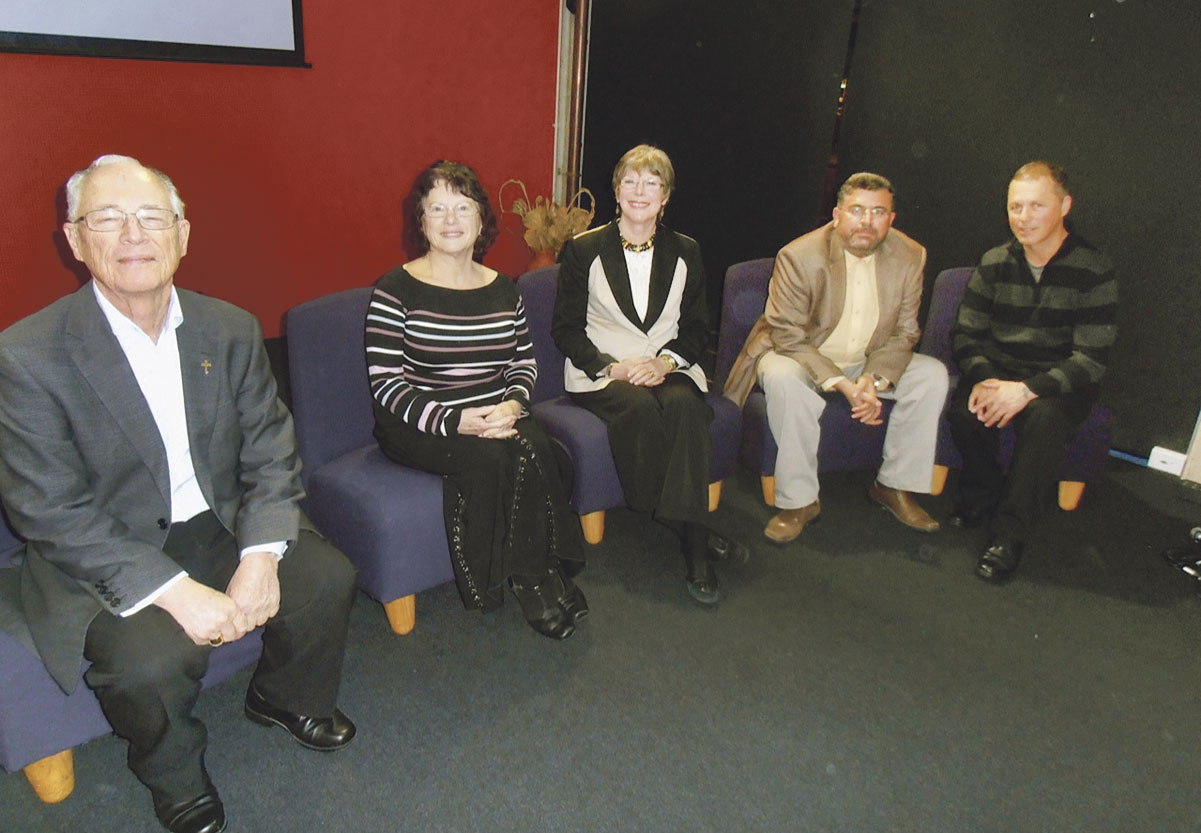 Palmerston North Diocese

February 2014
Bishop Peter Cullinane
Bishop Peter Cullinane gave this reflection at an interfaith forum in a packed Palmerston North public library last August.
Each of Abraham's families carries forward the blessings God bestowed on Abraham.
And so it is that we have in common the message of shalom/salam/peace. The calling of all of us is to be peacemakers.
But we will not be credible to the world around us if we do not first acknowledge our history and face our demons. It has been a warring history.
If our calling is to be peacemakers, we must ask ourselves what on earth got into us that led us into violence against one another. And what has changed that can prevent such things from happening again?
I shall speak only for the Christian people, and especially the Catholic Church, trying to account for what led us to commit injustices against Islamic and Jewish people and why things can now be different. Wrong actions started from wrong ideas:
1. The idea that 'error has no rights'. It's an easy step from there to thinking that people in error have no rights. And from there it comes easily to justify torture and persecution. For example: the crusades against Islam; persecution of Jewish people; and also sometimes persecution against fellow Christians (the killing of presumed witches, to say nothing of the slave trade.) What has changed that will prevent these things from recurring?
First, we now realise it is meaningless to say 'error has no rights' because it is people who have rights including those who are perceived to be in error. The Catholic Church teaches: 'The Church repudiates every form of persecution against any whomsoever it may be directed.'(Nostra Aetate 4)
2. The idea that salvation wasn't possible outside the church. It's an easy step from there to consigning everyone else to Hell.
Today we accept that no one has the right to make this judgement.
The Catholic Church teaches, 'Since Christ died for all and since all are in fact called to one and the same destiny which is divine, we must hold that the Holy Spirit offers to all people the possibility of being saved.' (Gaudium et Spes 22)
3. The idea that because the scriptures are inspired by God, words and sentences can be quoted without taking seriously their historical, cultural and literary contexts. Today, Christian scripture scholars show us that it is the meaning of scripture that God has inspired, and to know the meaning we have to take into account the contexts which give their meaning.
4. Wrong ideas about the role of the State. For several hundred years it was assumed that the State could impose Christian beliefs and punish dissent. This has long since changed.
The Catholic Church teaches that all have the right to freely follow their conscience and to practise their beliefs (Nostra Aetate 2, 3, 4) and that the role of the State is to create the social conditions in which this can happen.
5. The idea that salvation depends on our own success and on being in the right. It's an easy step from there to being obsessive, driven, judgmental, oppressive and fanatical.
Today, we are more faithful to our belief that salvation comes not from our being proved right but from being forgiven. We have all sinned, and we all stand in need of forgiveness. This in turn requires that we ourselves be forgiving and merciful.
It took Christians a long time to learn that there is absolutely no place for exclusiveness, coercion, violence, fundamentalism or killing in the name of God or religion.
We now promote dialogue aimed at understanding one another properly and respecting every person's Godgiven dignity. For Christians, this is a requirement of following Christ.
Other speakers were Helen Chong from the Council of Jewish Women, Dr Ibrahim Al-Bahadly from the Muslim Community Manawatu and Sam Te Tau from the Baha'i faith. It was said that this meeting could not have happened 30 years ago and the public response and energetic discussion proved that Palmerston North is hungry for interfaith dialogue.
Helen told us that 'for [Jews], the legacy of [Czech-Austrian printer] Avraham Avinu who was a Christian convert to Judaism, is the practice of kindness, justice and blessing, compassion, life and peace.'
Ibrahim shared the Islamic view of Abraham's legacy and quoted from the Quran, 'O Mankind, be dutiful to your Lord who created you from a single person and from him he created his wife and from the both he created many men and women'. (Ch 4:1 Quran) From this starting point came the obligation to maintain solidarity, and be merciful with one another. Sam Te Tau shared Baha'u'llah's vision that 'World order can be founded only on an unshakeable consciousness of the oneness of mankind,' a spiritual truth which could transform the current pattern of conflict into harmony and cooperation.