The New Zealand Catholic Bioethics Centre – The Nathaniel Centre – has appointed John Kleinsman as its new director.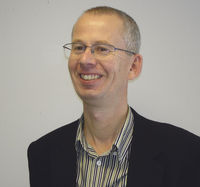 Mr Kleinsman has taken over from founding director Rev Dr Michael McCabe who is retiring after 11 years at the Centre, established by the New Zealand Catholic Bishops Conference in 1999.
Mr Kleinsman has worked as a researcher for The Nathaniel Centre since 2002. He has an academic background in moral theology and bioethics, and work experience in the fields of drug and alcohol rehabilitation, and advocacy for children and adults with disabilities. He is also a past and present member of various research ethics committees.
He has a particular interest in beginning of life issues, which he is currently researching as part of a PhD through the Sydney College of Divinity.
He describes his research focus as 'the potential contributions of contemporary "thinkers of the gift" to a renewed theology of procreation, and the implications of this for Catholic teaching on the transmission of human life in an age of assisted reproductive technologies'.
Looking forward to the challenge of his new position, Mr Kleinsman says he wishes to continue the good work done by the Centre under the guidance of Fr McCabe.
'I believe the Centre has established itself as a respected voice within the conversations that are taking place in New Zealand at the crossroads where faith, technology and everyday realities intersect.
'While the Centre exists to advocate for Catholic positions on bioethical issues, its name and identity are bound up with the lives and struggles of ordinary people such as Nathaniel Knoef, a young boy born with incurable health problems who lived just a few weeks,' he says.
'The naming of the Centre after Nathaniel is a constant reminder to me of the need to advocate for those who are most vulnerable as a result of the complexities that arise in the course of people's lives and this, above all, lies at the source of my own passion for bioethics.'