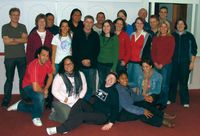 The Wellington Catholic Education Centre (WCEC) paper, YM101 (Introduction to Catholic Youth Ministry), ran for three days at the end of May under the tutorship of long-time youth ministry practitioner, Chris Duthie-Jung.
It has attracted 20 people from the 20s to the 60s and all ages in between. Almost all are employed in youth and young adult ministry, whether it be in Catholic dioceses, parishes, tertiary chaplaincies or independent agencies.
There are seven papers in the Certificate in Catholic Youth Ministry course, three on youth ministry and the rest on theology and education.
As well as this taught option, the papers can all be done by distance education.
At least one Wellington parish is in the process of sponsoring four of its parishioners on the distance course to enable them to better support their local youth minister.
Chris said there was strong cohesion among the group. During the two-day (18 hour) course the students entered into some deep and fruitful discussion on issues facing Catholic ministry with the young.