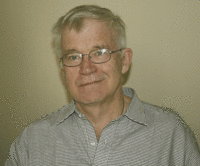 Opinion
Fr Kevin Neal
I recently had the chance to spend some time with my family in the South Island. I have two sisters in Blenheim and a brother in Christchurch and while I was in Christchurch my brother suggested that I might like to spend a day with him at the Mid Canterbury Vintage Machinery Club Rally, near Ashburton.
I didn't need asking twice. I was a little apprehensive of the time I'd spend standing but I gave it a go. Secretly, it was the opportunity of a lifetime. I've always been interested in old machinery and this was to be a day in the middle of it all. I'm old enough for much of the old gear to have been young when I was growing up on the farm. I had spent long hours on a Fordson Super Major when I was growing up and I thought that there might be one at the show. There would have to be, surely.
We drove to Ashburton in search of rally. Just before the town we went off on a side road for many kilometres and then there it was: hundreds of old cars, trucks and tractors – especially tractors. I still didn't know how I'd cope with long standing but we had our sandwiches and we queued for tickets.
Everyone seemed to know my brother so it wasn't long before we hand a park near the entrance. There was a little more chatting and we were moved in the gate and right up to the edge of the ring. I was lucky: we had a seat right where we could see and hear everything. The only fear I had came to nothing.
Apart from the old machines, a few of the local farmers had their new machines on show. This included a tractor that was simply enormous, and worth $600,000. When it was loaded up with farm equipment it was a like square hectare on the move.
The good thing was the show came to us through the dress circle. All the vehicles, in their different groups, came into the ring over several hours. What a great show.
One the things I noticed was the number of farm vehicles that were driven by the members of the same family. There was one very large, and highly polished, traction engine that had four generations aboard as it chugged along. Keeping these machines going was obviously a family affair.
Our car was just a few metres away from the tractors so I could take a look at the various groups and retreat to the car when needed.
And yes, there was a brilliantly restored Fordson Super Major; in fact, there were a dozen or Fordsons. They were a huge tractor in their day, though they seem a bit smaller now. All of them made the deep-throated rumble they did 50 years ago and it looked as if some were still working.
I nearly didn't go because there were so many obstacles, or so it seemed, but something made me go. I had the chance and it all worked out.